AHR 2017 in Review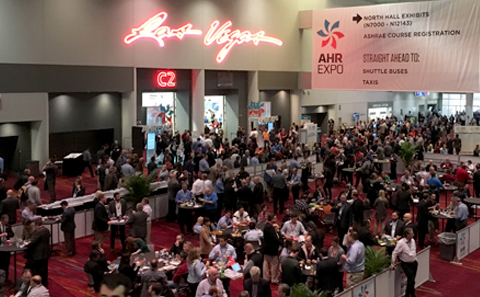 This year's AHR Expo was in Las Vegas, which means I got to meet Elvis in addition to learning more about new products. So I was a winner even before I entered a casino. And much like Vegas, the show was bustling and there was a lot to see. I spoke with many exhibitors and attendees and all seemed to agree that this was one of the best shows yet.
So what's new? According to AHR, "Building trends that drive need for smaller-footprint products, as well as those that can be integrated into existing spaces, have cultivated a great deal of ingenuity among heating product manufacturers in 2017." I saw some very sleek ductless mini-split systems, tankless water heaters, and combi boilers.
Technology and connectivity also seemed to be a theme running throughout the week. It's no surprise that there were plenty of smart-home solutions, but it was fun to see them all under one roof. HAL 9000 would have been jealous.
There was also a strong emphasis on efficiency, not only in terms of energy savings, but also in terms of time. I enjoyed testing many tools and if they can train me how to use them in minutes, they can train pretty much anyone. This will not only save companies time and money, but it will also come in handy when it comes to the shortage of skilled labor and training the next generation.
The Expo honored the innovative product developments of several manufacturers with Innovation Awards. Taco, Inc.'s SmartPlug Instant Hot Water Control won Product of the Year. Click here for a full list of winners.
Check out our Industry News and Twitter to see new products featured at AHR. And view many more in AHR's Product Preview here.