Albany New York Steamfitters and Plumbers Local 7 Goes Geothermal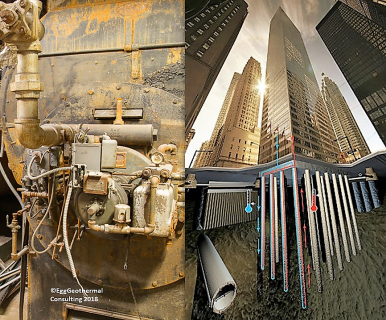 Recently I was asked to speak at the Rensselaer Renewable Energy & Sustainable Living Fair in New York, which took place on October 20, 2018. I was introduced to Frank Natalie, the Business Agent of Plumbers and Steamfitters Local 7 in Albany, New York by Susan DuBois of the Sheridan Hollow Alliance for Renewable Energy (SHARE), their the co-chair on the legal/policy committee.
I had spoken with Frank the previous week about meeting up after the speaking event to talk about opportunities for Local 7 to get behind the geothermal HVAC effort. The conversation went very well.
Geothermal HVAC is a fundamentally hydronic technology; everything about it involves piping water-based heat transfer fluids. Frank believes in apprenticeship training, and as such, sees this as the next great thing for Local 7's pipefitters.
I got to share a story with him of my adventures the day previous to our meeting. I was staying in a Residence Inn, and noticed the heat was inoperable. Of course, I checked into it, and found the circulator for the hydronic fan coil was unplugged, but the fan and thermostat were operational, so I plugged in the circulator. After a few minutes, it was evident that no fluid was circulating, and the motor was overheating, so I unplugged it and placed a service call. The technician came out, and it was obvious that he needed some guidance, so I helped him through the diagnosis, and he left to procure a new circulator and returned later while I was out.
I came back to a flooded room. I won't go into what went wrong; just that he probably was not qualified to be working on the system. The reason for sharing this is that Frank and I both see the need for a better trained up-and-coming work-force, and what better way to ensure that than through apprenticeship programs?
We've all read the statistics, and it's abundantly clear that much of our trained workforce is at or close to retirement age, and there are not enough young feet to fill our shoes. Thankfully, people like Frank Natalie get that, and they are dedicated to programs to attract and train our young people coming straight out of high school. The New York State Energy Research and Development Authority (NYSERDA) has $Millions of dollars available currently for just such programs, and they are geared toward Clean Heating & Cooling systems training.
Donovan Gordon, Director of NYSERDA's Clean Heating and Cooling program was also at the Renewable Energy & Sustainable Living Fair that day, and I took the opportunity to introduce the two of them. This is the future. It's easy to stay the course, but it takes real effort to look at what's over the horizon, and adapt our work force for those up–and-coming needs. I followed in the footsteps of my grandfather, Theron John Egg, who had a plumbing shop in Soda Springs, Idaho in the 1930s. I'm quite pleased to be able to carry on his legacy. However, we need a lot more new technicians to enter the workforce; more than ever before.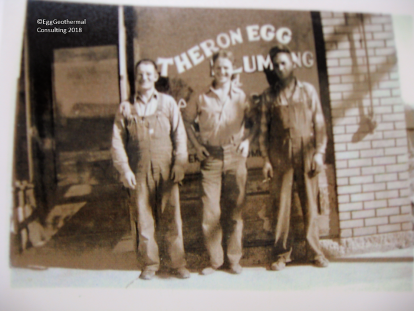 It's really quite simple. We are piping energy; BTUs in water based heat transfer fluids. Water is basis of life, energy movement and growth, and central to the Water-Energy Nexus. "Water-Energy Nexus" is a term used to describe the interdependence between water and energy in our lives. In the development of master planned communities, the Water-Energy Nexus is front & center, and has yet to realize its full potential.
The variations of opportunities to exchange energy between Building Systems, especially in mixed-use communities are staggering. Stanford University provided some evidence of this when they retrofitted their campus and proved the amount of thermal advantage load sharing that could be accomplished by sharing energy between heating and cooling systems there.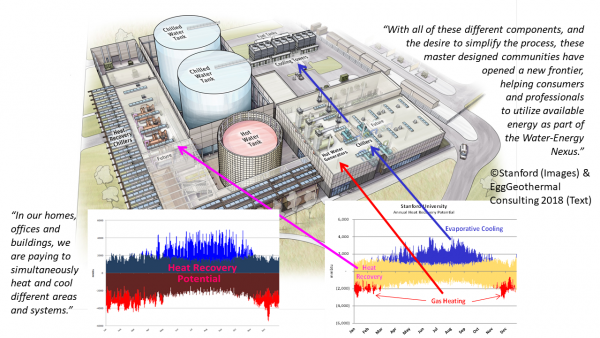 A nearly untapped Frontier involves the energy coming into and out of our communities. I'm talking about potable water, and wastewater. Just considering wastewater, US Department of Energy estimates that 350 billion kilowatt-hours per year of energy paid for by its citizens goes down the drain. And potable drinking water represents a remarkably simple heat exchange means for buildings of all types. Just take a look at this prototype project conducted in Valley Stream, New York: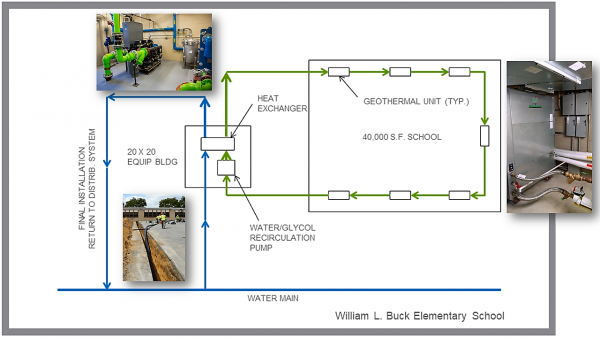 American Water Works Company, Inc., or "American Water", working with the New York Department of Public Service (DPS) in 2015 installed a water-main sourced system for the William L. Buck Elementary School in Valley Stream, N.Y. As can be seen in the image, the water main was used as a heat transfer medium to feed the school's newly installed geothermal heat pumps (GHPs). Oak Ridge National Laboratories was tasked with studying the impact, and in June 2018 produced the report, "Evaluation of the Impacts of Heat Exchanger Operation on Quality of Water Used as Heat Source and Sink". I invite you to read the executive summary yourself, but the key statement quoted from the report is, "Review of the data identified no conditions that would prevent the use of heat exchange outflow water for water supply".
It's remarkable to note that properly applied, existing infrastructure, such as potable water mains could be used for heat exchange for buildings in the very near future. It's equally important and remarkable to note that now more than ever, our tradespeople must be properly educated. Apprenticeship programs such as those run by the Plumbers and Steamfitters Local 7 in New York help us to ensure that our workforce is properly trained. Increasingly, communities will begin integrating existing infrastructure to provide "Thermal Advantage" opportunities.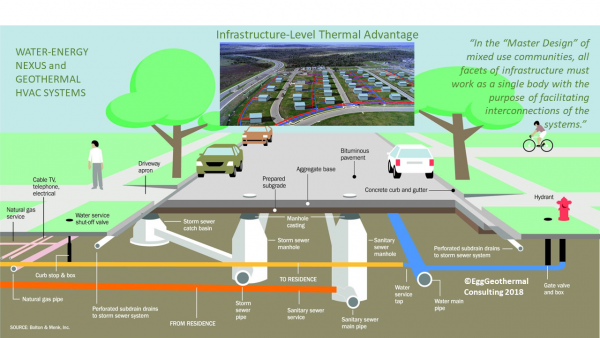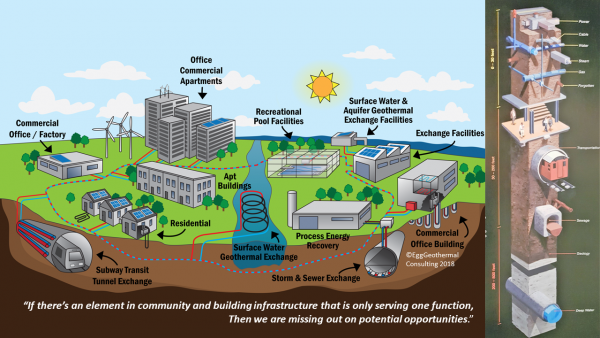 "If there's an element in community and building infrastructure that is only serving one function, then we're missing out on potential opportunities."
Gone are the days when we have single purpose systems. If there's an element in the building infrastructure that is only serving one function, that's missing out on potential opportunities. The trades will be working together more and more to ensure that integration of systems will provide "Sustainable Solutions".
Jay Egg is a geothermal consultant, speaker, writer, and the owner of EggGeothermal. He has co-authored two textbooks on geothermal HVAC systems published by McGraw-Hill Professional. He can be reached at jayegg.geo@gmail.com.
©EggGeothermal Consulting 2018