Snowstorm Safety Tips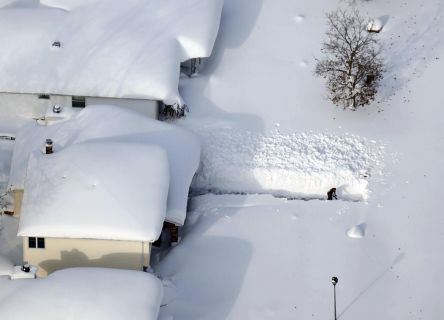 When deep (and persistent) snow arrives, danger arrives with it.
I asked the professionals on The Wall what homeowners should do (and not do) to stay safe and here's some of what they had to offer:
Check to be sure that sidewall vents (furnace/hot water/dryer) have not been blocked by snow. Good combustion needs air, and without it, we get carbon monoxide. 
Also, not just sidewall vents. In some structures the roof drifts can get to four or five feet (or more!), and the roof needs to be checked, too.
Keep an eye out on your NEIGHBORS vents, especially the elderly and disabled.
Make sure you have a working CO and smoke detector near the sleeping areas of the home.


Lets not forget the electric space heaters and lamp cords. I caught one of my customers with a 1200-watt space heater running with a 16-gauge extension cord. I made them go buy a heavier cord.

A 16-gauge extension cord that has any length will not carry the load of a 1200-watt heater. The cord will heat up and start a fire. Please use heavy duty 14-gauge or 12-gauge cords if you must use a space heater. Make sure you plug it into a receptacle where it fits tightly. If the socket feels loose, plug it in somewhere else till you get the receptacle replaced.
Don't turn the thermostats to the lowest settings in unused spaces. The pipes will freeze during the off period. Don't use setback thermostats. Set them together for a reasonable temperature. If you lower an inside thermostat by 20 degrees to save money, and the system was designed for zero degrees, and can barely make it, lowering the thermostat by 20 degrees is the same as dropping the outside air temperature to -20 degrees. If it is blowing 40+ MPH, that makes the infiltration factors go way up.
In the event of a power outage, do not use your outdoor grille, or generator in the garage, and make sure fire hydrants are shoveled out.
Keep ladders, bodies, and, roof rakes away from power lines.
And again, clear those sidewall vents. Here's one that wasn't. Note the soot on the ground. The family was in danger of carbon-monoxide poisoning. Their CO detector saved their lives.
If you have not had your annual inspection and maintenance done yet, do it as soon as the service technician can get it done. Why wait until New Year's eve to do some maintenance?
If you heat with fuel oil or propane, be sure to clear the way to the tank so the driver can make the delivery.