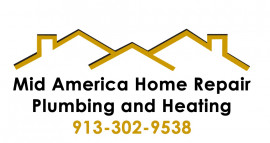 Mid America Home Repair Plumbing & Heating
2219 Washington Blvd, Kansas City, KS 66102
Contact: Andy Tomelleri
Phone: (913) 302-9538

Master Plumber, General Plumbing Repair and Residential Boiler Repair
All facets of residential and light commercial plumbing residential heating boiler repairs/replacement
Just a leaky steam main, or so I was told.
Challenge
trying to find out why a length of 1-1/2" steam main had rotted out, on a system that a boiler had been replaced 5 years ago. Massive hammering when the system started up and uneven heat at convectors and two convectors with no heat at all.
Approach
The initial call was for replacement of leaky steam lines, 1-1/2" main on the back of the house. With the repair complete I fired the boiler got the system to make steam and started checking convectors. As I made my way back down into the boiler room I sat in front of the boiler just watching the pressure gauge and listening to the system and analyzing the near boiler piping. It was at this time I decided to sketch out a piping diagram to help me understand what might be happening. As I found out it was completely piped wrong from the take offs to the location of the equalizer and connections of the returns and the Hartford Loop was nowhere to be found.
Solution
Solution was to repipe near boiler piping to the installation specs, install a Hartford loop, along with individual drips from the dry returns to the wet return. Replace all,of the cage units inside the convector traps and install two additional main line vents and 1 additional dry return vent. Replaced failed backflow device and automatic feeder. Washed the sludge out of the boiler with a hand wand all of this why having deep boiler conversations with the owner of the house. The home owner was extremely pleased with the outcome, heat at all of the convectors along with two that hadn't had any heat in the 20 years he had lived in the house. 20 years of problems and no one could help him. And all it took was me watching, listening and like Dan says, be a marble.