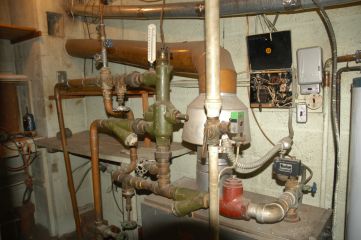 Thanks to H.L. Bent of Melroy Plumbing & Heating Inc. in Baltimore for sharing these instructions and this photo of a fine old job. 
He writes, "This house won many awards for its attributes. It is a one story concrete slab on grade with concrete block walls, and a radiant floor heat system with two zones each with a circulator. In 2011, we installed two new HVAC ducted systems with commercial round spiral duct. Each zone has a 90% plus direct vent gas furnace with ac. The old Boiler was in service minus the abandoned domestic water coil until we replaced it this season. We replaced it with a Slant/Fin CHS gas fired direct vent 93%+ Afue and new indirect 80 gallon water heater.
The system uses a primary secondary loop system with a priority zone control for domestic water. All the original floor piping remained. When the house was built the owner saved all the documents including the purchase contract and turned them over to the buyer. Among the records were sound and lighting systems, radiant designs, and all the manuals, including all field as built sketches. History like this is seldom seen anymore. Built in the 1950's. The new owner gutted and rebuilt it adding closed cell foam in the ceiling / roof area. He saved and improved a bit of history in Baltimore.
This was the fourth project we built for this very satisfied client.
Anyway I thought you'd like to have this for your library to share. It does not get any better than having an outdoor temp water temp reset on the radiant loop side. And some think we are just inventing this stuff.
And here are the installation instructions:  Sarcotherm-ST-outdoor-cntrl.pdf