Armstrong Unveils Improved Astro 2 Hot Water Recirculation Systems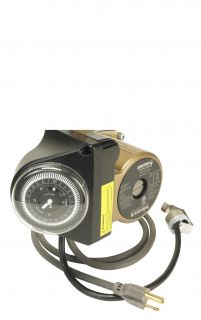 Armstrong Fluid Technology has introduced new versions of the popular Astro 2 Hot Water Recirculation (HWR) pumps.  A hot water recirculation system can save a typical family over 12,000 gallons of water per year by eliminating the waste of water that occurs when occupants open a hot water faucet and have to wait for hot water to reach the fixture.
Astro 2 HWR circulators are suitable for use in a 3-pipe installation with a dedicated return. The Astro Express 2 System includes the innovative Astro Express LF Valve and is designed for use in a standard residential 2-pipe installation.
Key enhancements offered in the new version of Astro 2 circulators include:
Larger, easier-to-service electrical enclosure includes an integrated timer assembly

Timer Accessory Kit that can be used to upgrade earlier version Astro 2 circulators

New Timer Accessory Kit that can be used to upgrade new generation Astro 2 circulators

Easier field assembly of timers reduces installation time

Industry-leading five year warranty
Astro 2 HWR circulators are available in both stainless steel and bronze versions, with either NPSM Union or 'sweat' connections.
"In addition to offering customers more sustainable solutions, the new Astro 2 HWR helps contractors and homeowners with easier installation and an industry-leading warranty." said Andy Januszewski, Armstrong Marketing Manager. 
About Armstrong Fluid Technology
With over 1000 employees worldwide, operating seven manufacturing facilities on three continents, Armstrong Fluid Technology is known around the world as a forerunner and innovator in the design, engineering and manufacturing of intelligent fluid flow equipment. With its expertise in fluid dynamics, heat transfer, variable speed, and demand-based control, Armstrong Fluid Technology leads the fluid systems industry, including HVAC, plumbing, and fire safety in providing the most energy efficient and cost effective solutions to building professionals and owners around the globe.