Bosch Introduces New Connected Control BCC50 Wi-Fi Thermostat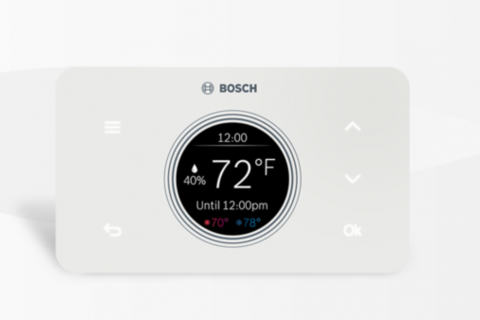 Bosch Thermotechnology announced an expansion today to its connected thermostat portfolio with the new Bosch Connected Control BCC50 Wi-Fi Thermostat. The BCC50 is a Bosch connected thermostat that is affordable while still providing high-end features such as smart device compatibility, remote programming and easy integration with HVAC systems.
The BCC50 offers a 2.8-inch color screen with five illuminated touch buttons, a minimalistic design, and voice control via Amazon Alexa- or Google Assistant-enabled devices.
Users can integrate smart home apps with the BCC50 to remotely turn their thermostats on and off, change the temperature, and review current conditions and settings. Alexa or Google will recognize the device by its name, which users can customize in the Bosch Connected Control smartphone app.
They can also access intuitive functions such as app alerts, auto-on safety controls, and system air filter replacement reminders. Users can even set a schedule to ensure their Bosch Connected Control BCC50 meets specific heating and cooling needs.
"Our goal with the BCC50 is to combine Bosch's cutting-edge technology with an affordable price point," said Joey Sung, senior project manager at Bosch Thermotechnology. "Users should not have to break the bank to enjoy comfort and quality."
Whether through the app or device, itself, users can lock the thermostat to prohibit changes; manipulate temperature set points or modes; and monitor run times for the heating or cooling equipment, air filter, and water pad. HVAC professionals can leverage the advanced settings for better control and improved performance of the heating and cooling units and access to device logs.
The BCC50 retails for $120 and can be used in both residential and commercial settings. The thermostat comes with a three-year limited warranty.