Caleffi's DISCALDIRTMAG® Magnetic Separation Line Expanded for Commercial Applications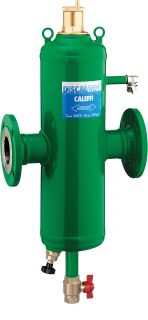 Caleffi expands its' solutions to problems caused by abrasive and often microscopic ferrous oxide debris within hydronic systems.
The new ASME registered NA546M Series DISCALDIRTMAG® continuously and efficiently removes air and debris that forms in hydronic circuits including the removal of up to 100% of ferrous debris. 
CALEFFI – Creating innovative, superior performance products that help customers live comfortably and economically, while softening their impact on the environment. For more information, visit Caleffi's Web site at www.caleffi.com, email, or call (414) 238-2360.