Coffee with Caleffi™: Backflow Preventers and How They Are Applied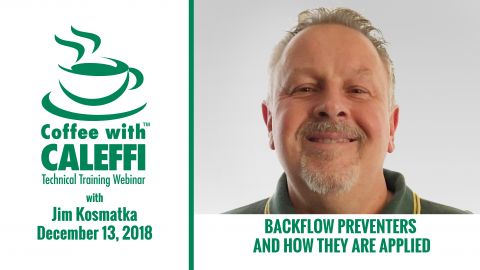 Depending on the potential hazard level of the contaminating fluid and adherence to UPC/IPC codes and municipal regulations, there are multiple backflow preventer product solutions. New to the webinar series, Jim Kosmatka, Master Plumber and state of Wisconsin inspector and instructor, will unravel for our audience the science of backflow preventers and illustrate practical examples of their use in order to keep your water delivery systems safe and secure at the next Coffee with Caleffi™ webinar on Thursday, Dec. 13 at 12 noon CST.
Buckle up and enjoy the ride because Jim Kosmatka boasts a veritable alphabet soup of credentials and know-how that he is excited to share with our audience. He effectively utilizes his 20+ years' of experience as a Wisconsin Master Plumber in the trenches as a State Commercial Building and Plumbing Inspector and ASSE Cross Connection Control Tester. You'll also find Jim at the head-of-the-class, sharing his trade of passion, instructing the next generation professionals for the state.
The one-hour educational webinars are free and are intended for contractors, designers and wholesalers. A Certificate of Attendance is emailed to attendees following the event for continuing education audits. Please visit our website at www.caleffi.us for schedule details and registration.