Coffee with Caleffi™: Correcting Common Mistakes in Hydronic Systems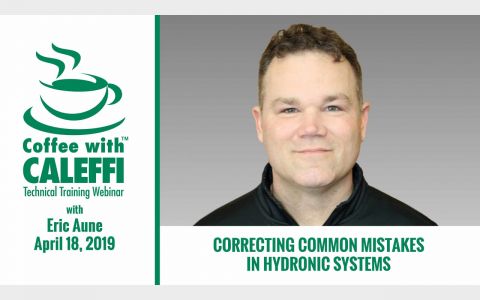 Years' of experience installing and maintaining hydronic systems lends itself well to compiling lists: 1) what to do 2) what not do to and 3) how to fix what shouldn't have been done. New to the webinar series, Eric Aune will share his industry know-how discussing Correcting Common Mistakes in Hydronic Systems at the next Coffee with Caleffi™ webinar on Thursday, April 18 at 12 noon CDT.
Aune, owner of Aune Plumbing and Heating (Zimmerman, Minn.) and operating partner of the popular Mechanical Hub website is driven to learn and motivated to teach. He's an industry megaphone, sharing his expertise on digital platforms and encouraging the nextgens. Aune specializes in radiant heating, high efficiency hydronic systems and - in his own words - is a "tool nut".
The one-hour educational webinars are free and are intended for contractors, designers and wholesalers. A Certificate of Attendance is emailed to attendees following the event for continuing education audits. Please visit our website at www.caleffi.us for schedule details and registration.