Coffee with Caleffi™: Filling, Purging and Maintaining System Pressure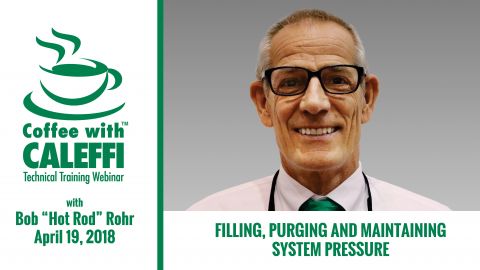 Filling and purging are the final steps before commissioning a hydronic system. Take a shortcut or two and the chance for a costly callback increases. Bob "Hot Rod" Rohr, our training and education manager, will explore with the audience options to ensure a clean, efficient fill and purge regardless of the system's piping or complexity at the next Coffee with Caleffi™ webinar on Thursday, April 19 at 12 noon CDT.
A familiar and favorite speaker to the series, Hot Rod is sure to delight the audience with his expertise and quick wit. He travels from sea-to-sea, enthusiastically sharing his 30+ years' of experience as a plumbing, radiant heat and renewable energy contractor. A regular contributor for several industry publications, Hot Rod puts his rubber-to-the-road experiences to pen.
The one-hour educational webinars are always free and are intended for contractors, designers and wholesalers. A Certificate of Attendance is emailed to all attendees following the event for continuing education audits. Please visit our website at www.caleffi.com for schedule details and registration.
CALEFFI – Creating innovative, superior performance products that help customers live comfortably and economically, while softening their impact on the environment.