Coffee with Caleffi™: High/Low Mixing Valves for Domestic Hot Water Applications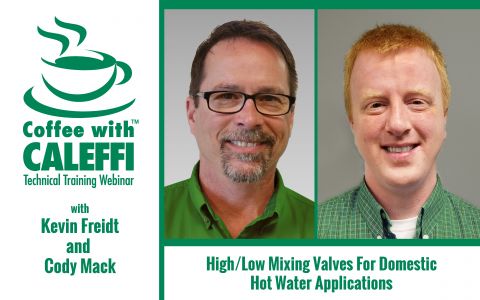 Institutional, commercial and large residential homes require system delivery of tempered water for a broad range of demand. For these applications, a common solution is a high/low mixing valve. At the next Coffee with Caleffi™ webinar on Thursday, May 25 at 12 noon CDT, Kevin Freidt, director of product management, and Cody Mack, applications engineer, will discuss how to effectively and efficiently manage a broad range of demanding DHW flows.
Freidt boasts 30+ years' of experience in the commercial HVAC industry. The audience will thoroughly appreciate his academic passion and concise content delivery. Mack applies his 10 years' of field support experience on a daily basis to our technical support team. He's heard about it, troubleshot and solved real-time field perplexities.
The one-hour educational webinars are free and are intended for contractors, designers and wholesalers. A Certificate of Participation is emailed to all attendees following the event for continuing education audits. Please visit our website at www.caleffi.com for schedule details and registration.