Coffee with Caleffi™: How To Control Legionella in DHW Recirculation Systems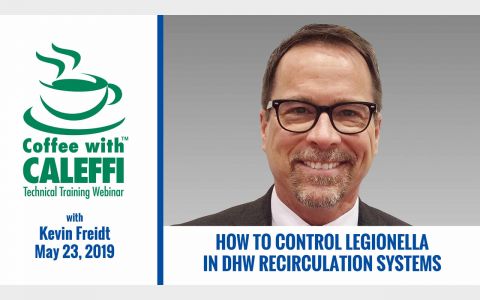 With increasing awareness of the dangers of Legionella bacteria in plumbing systems and the rise in reported Legionnaires' disease cases, assuring safe and sanitary domestic hot water (DHW) is more essential than ever. Kevin Freidt, director of product management and technical support at Caleffi, will take an in-depth look at temperature-based disinfection for minimizing the potential of biological contamination in DHW recirculation systems at the next Coffee with Caleffi™ webinar on Thursday, May 23 at 12 noon CDT.
Freidt is the intellect behind sizing up the best product offerings in a moving target market and manages an exceptional technical support team. He has a B.S. in Mechanical Engineering Technology, 30+ years' of experience in the commercial HVAC industry and is a LEED AP. Our audience will thoroughly appreciate his academic passion and concise content delivery.
The one-hour educational webinars are free and are intended for contractors, designers and wholesalers. A Certificate of Attendance is emailed to attendees following the event for continuing education audits. Please visit our website at www.caleffi.us for schedule details and registration.