Coffee with Caleffi™: Hydraulic Separators Do More Than Decouple Pumps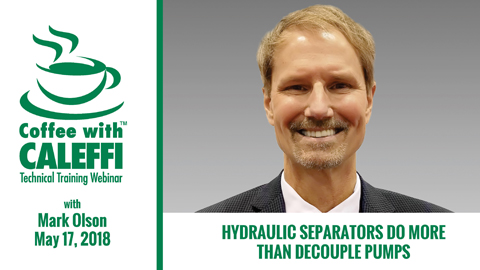 Hydraulic separators were originally developed to provide a reliable means for preventing pumps from interfering with one another. Over the years, extra functionality was added to hydraulic separators by manufacturers that negated the need for other system components including air, dirt and magnetic separators. Mark Olson, Caleffi GM, will review the various methods currently practiced to avoid pump conflict and discuss when it makes sense to consider hydraulic separators that incorporate added separation functionality at the next Coffee with Caleffi™ webinar on Thursday, May 17 at 12 noon CDT.
Olson has served as general manager of Caleffi North America since 2005. He holds an M.S.E. degree in Applied Mechanics from the University of Michigan. Always eager to share his 30 years' of experience, Olson leverages his analytical perspective with common-sense application resulting in a memorable audience event.
The one-hour educational webinars are always free and are intended for contractors, designers and wholesalers. A Certificate of Attendance is emailed to all attendees following the event for continuing education audits. Please visit our website at www.caleffi.com for schedule details and registration.
CALEFFI – Creating innovative, superior performance products that help customers live comfortably and economically, while softening their impact on the environment.