Coffee with Caleffi™: Siegenthaler Discusses Documentation of Hydronic Systems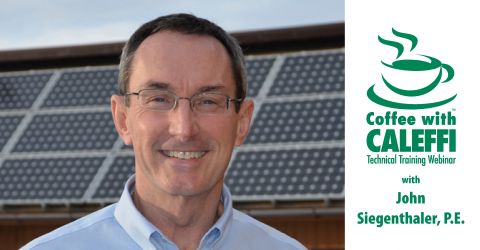 Hydronic heating and cooling systems can create challenging maintenance situations for those not familiar with the equipment or how it has been assembled into a system. Without proper documentation, thousands of dollars' worth of hardware can be put in a precarious situation.
To avoid this situation, John Siegenthaler, P.E., a favorite guest speaker to the webinar series, will discuss system documentation utilizing schematics and descriptions of operation on Thursday, Jan. 26 at 12 noon CST.
An industry icon and visionary, Siegenthaler shares his over 30 years' experience in designing modern hydronic heating systems. He is the author of Modern Hydronic Heating and is a regular contributor to publications including Plumbing and Mechanical, PM Engineer and HPAC magazines.
The educational webinars are free and are intended for contractors, designers and wholesalers. Please visit our website at www.caleffi.com for schedule details and registration.
CALEFFI – Creating innovative, superior performance products that help customers live comfortably and economically, while softening their impact on the environment.
For more information, visit Caleffi's Web site at www.caleffi.com, e-mail, or call (414) 238-2360.