Coffee with Caleffi™: Temperature Control in Domestic Hot Water Systems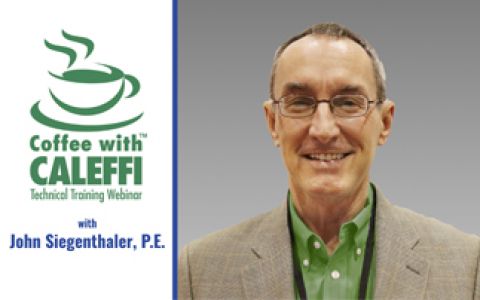 Are the domestic water heating systems you design or install safe? John Siegenthaler, P.E. kicks off our 2018 Coffee with Caleffi™ webinar series on Thursday, Feb. 22 at 12 noon CST, discussing the potential dangers associated with domestic hot water and how to ensure that those dangers don't reach plumbing fixtures. He will present new technology for disinfecting these systems against Legionellosis and show how to combine these safety measures into systems that "intelligently" deliver hot water throughout buildings.
A seasoned industry leader, passionate teacher and a favorite guest speaker to the webinar series, Siegenthaler shares his over 35 years' experience in the understanding and proper application of water-based engineering principles. He is the principal of Appropriate Designs and a regular contributor to industry publications Plumbing and Mechanical, PM Engineer and HPAC magazines.
The one-hour educational webinars are always free and are intended for contractors, designers and wholesalers. A Certificate of Attendance is emailed to all attendees following the event for continuing education audits. Please visit our website at www.caleffi.com for schedule details and registration.