ECR Celebrated the 40th Running of the Boilermaker with Bill Rodgers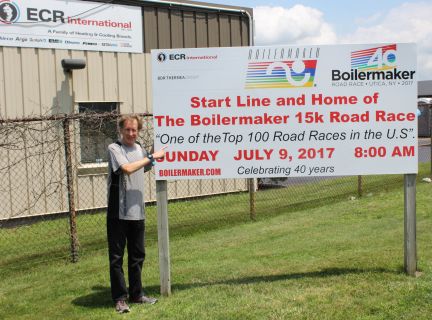 The Boilermaker Road Race was established in 1978 by Earle C. Reed. Reed was looking for a way to celebrate the company's 50th anniversary and give back to the community that had been such a big part of the company, Utica Radiator, later known as ECR International. Earle convinced his father Bob Reed, then President of Utica Radiator, to underwrite the cost of a new road race, which Earle named "The Boilermaker." What started as a race with 876 runners and a budget of $750 has grown into one of the top 15K races in the United States with over 14,500 runners registered for the 15K event and another 5,000 runners for the 5K event. The 15K race starts at ECR International's Utica manufacturing facility where they have been producing boilers since 1928.
In honor of the 40th running of the Boilermaker Road Race, ECR International hosted legendary runner, marathon man Bill Rodgers. Rodgers, better known as Boston Billy, won the Boston Marathon in 1975 and he broke the Boston and the American record (2:09:55), going on to win both the Boston and New York City Marathons four times each. Rodgers ran his first Boilermaker Road Race in 1983 coming in 1st place with a winning time of (44:38). While visiting Utica, Bill took part in a factory tour of the ECR International facility as well as media interviews with race founder, Earle Reed. The hall of famer called the Boilermaker "An American Classic" and he estimates that 2017 is probably his 20th time running the 15K race.
This year's 15K male, first-place winner was Silas Kipruto of Kenya, with a time of 43 minutes, 55 seconds to complete the course. Coming in 28th place overall was Mary Wacera of Kenya, the first female competitor to cross the finish line this year with a time of 49 minutes, 18 seconds.
With runners from 40 countries and every state in the union, this renowned road race draws the best athletes from all over the globe to compete in the historic Utica Boilermaker. ECR is proud to put the "Boiler in Boilermaker" and of the success of this year's event. Athletes, volunteers, and community members are already looking forward to the 2018 Boilermaker.