EVAPCO Gives Away New Tesla S75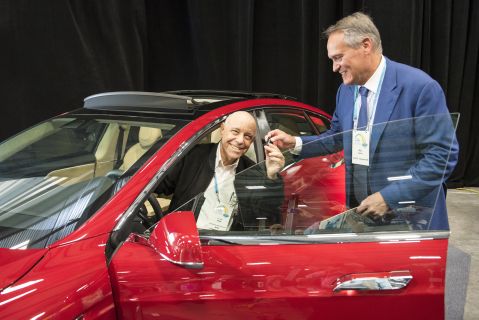 EVAPCO recently held its 2017 Global Sales Conference where the company announced the newest products to complete EVAPCO's full spectrum of global evaporative cooling solutions. Sales representatives from around the globe attended the conference.
During the event, the company gave away a new Tesla Model S75 to one of the sales representatives in attendance. A random drawing was held in EVAPCO's new state-of-the-art manufacturing facility in Taneytown, MD.
Dr. Avi Shalev from Krashin-Shalev Metal Industries Ltd. In Barkan Ind. Park, Israel, who has been working with EVAPCO for 20 years, was announced as the winner of the car by President and CEO Bill Bartley.
EVAPCO provides a full spectrum of global product solutions for the commercial HVAC, industrial refrigeration, power generation and industrial process markets with 78 active patents on the market today. Headquartered in Taneytown, Maryland, EVAPCO products are engineered and manufactured in 23 locations in 10 countries and supplied through a sales network of more than 170 offices.