EXPANDED! Webstone Hydro-Core Boiler Compatibility Matrix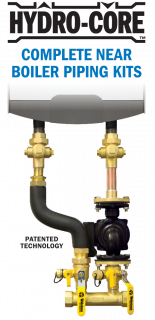 A new edition of the Hydro-Core Boiler Compatibility Matrix is now available at www.webstonevalves.com/boilercompatibility. 
Hydro-Core solutions are now available to fit around 300 boilers from 25 different manufacturers.  Use this matrix to find the right Hydro-Core kit for your specific boiler and save over four hours on your next installation with expert looking results.  Designed specifically for hydraulic separation, pump isolation, and purging the near-boiler piping or secondary-circuit loops.  Guaranteed to save you time, space, and leak paths - Hydro-Core is the Core of Any Professional Hydronic Installation.
Founded in 1954, Webstone is recognized as an industry leader for innovative design of residential and commercial valves used in plumbing, hydronic, radiant, solar and geothermal applications. These designs focus on time- and space-saving concepts that simplify future maintenance and upkeep of all piping systems. Some of Webstone's trademarked and patented items include: Hydro-Core™, The Isolator®, Isolator EXP™, Pro-Connect™, and Pro-Pal® step saving valves.