Fieldpiece Instruments Introduces New Tool Bag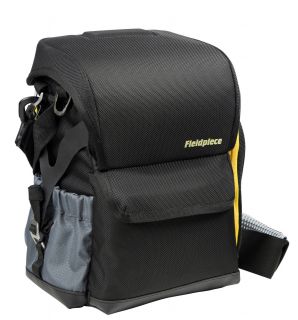 The new BG36 Inspection Tool Bag from Fieldpiece Instruments is designed specifically for HVACR professionals to have everything they need in hand for quick inspections. It is large enough to carry hand tools and meters yet small enough (9" w x 11.5" h x 6" d) to be convenient and comfortable.
The unique quick release pop top combines the easy access of a small open tote with the protection of an enclosed bag so tools don't fall out, and they're protected from dirt and inclement weather. The magnetic lock keeps the bag securely closed, but quickly opens when popped to reveal hand tools, meters and drill bits. A magnetic tray in the cover adds a convenient spot to hold cabinet screws or washers so you know right where they are when needed. The weather protected sturdy base also keeps the bag from tipping over when in use.
The BG36 has sturdy sectioned interior pockets so tools and meters are organized and it is quick to find the correct tool. A zippered side pocket for meters prevents damage from hand tools. Made of ballistic nylon and rip-stop nylon, the BG36 also has a weather protected stable base to prevent the bag from falling over.
"We designed this compact but convenient bag for real-world HVACR professionals. We know that when they go on inspection calls they need to have protected but easy access to their tools and meters," said Russ Harju, Product Marketing Manager of Fieldpiece Instruments. "The BG36 is well constructed and the Pop-top will make his job even easier and more efficient."
The BG36 Inspection Tool Bag is the latest addition to Fieldpiece's tool bag line, which was launched in 2017 with the BG44 Service Tool Bag – a medium size bag designed to house precisely what's needed for HVACR service calls.