Heating for a Cure: Support Breast Cancer Research with Slant/Fin's Pink Gas Boiler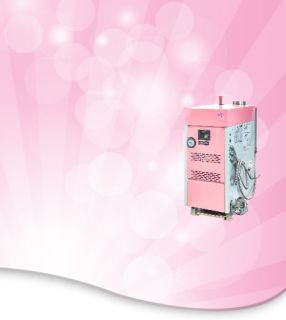 Slant/Fin is proud to be the first and for now the only boiler manufacturer to have a "Heating for a Cure" Pink boiler. Slant/Fin will donate $50 for each pink boiler sold. Currently the S-90 and S-120 are available in the "Heating for a Cure" Pink.
We have chosen The National Breast Cancer Foundation to donate to because this charity has been found to efficiently utilize donations to pursue their mission. We found they provide help and inspire hope to those affected by breast cancer through early detection, education, and support services and research.
An example of a program they have is partnership with medical facilities across the country to provide free mammograms and diagnostic breast care services to underserved women through the NBCF National Mammography Program. In addition, the NBCF National Mammography Program requires that medical facilities within their network have the capacity to continue treatment after an abnormal finding or diagnosis of breast cancer.
NBCF also continues to help women by funding targeted research. They believe improvements in treatment options are needed now. That's why NBCF is focused on funding research projects that seek to improve the outcome of this disease and further advancements in personalized therapies.
Above are just a couple of examples of why we chose this organization. To learn more go to http://www.nationalbreastcancer.org/about-nbcf
We also found NBCF to be highly rated with 4 stars (out of 4) on the Charity Navigator. The Charity Navigator's mission is to guide intelligent giving. By guiding intelligent giving, they aim to advance a more efficient and responsive philanthropic marketplace, in which givers and the charities they support work in tandem to overcome our nation's and the world's most persistent challenges.
Charity Navigator is a 501 (c) (3) non-profit organization under the Internal Revenue Code and does not accept any contributions from any charities they evaluate. Attached is their link so you can learn more about how they rate charities. http://www.charitynavigator.org/index.cfm?bay=content.view&cpid=17
We know you will all help us support the cause by spreading the word. Remember we are selling these boilers at no extra cost and they look pretty cool too.