High Value and Accurate Control with PresCal™ Compact from Caleffi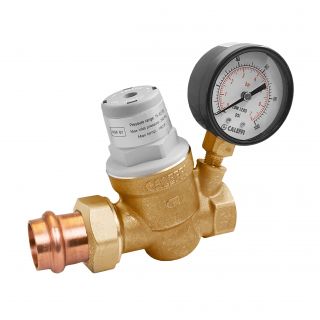 The 533H Series PresCal™ Compact pressure reducing valve (PRV) is precision engineered to deliver accurate pressure regulation. Low internal pressure losses produce superior falloff performance enabling more flow capacity to fixtures. Perfect for residential and commercial applications, its superior 180°F temperature rating, anti-scale components and quiet operation add to the high value of the most recognized PRV in the world.
"The 533H is ideal for controlling water pressure in smaller plumbing applications. For example, the ¾" valve will handle demands up to about 10 GPM and the ½" size will handle up to about 6 GPM", states Kevin Freidt, director of product management and technical support.
The valve is ICC-ES certified to ASSE 1003, CSA B356, NSF 61 and NSF 372 (low lead laws). It meets the requirements of IPC, IRC, UPC and NPC for use in accordance with the U.S. and Canadian plumbing codes. Available for ½" and ¾" pipe sizes in a variety of inlet connection styles, PresCal's self-contained cartridge with stainless steel mesh filter allows for maximum debris protection and convenient in-pipe cleaning or replacement.
CALEFFI – Creating innovative, superior performance products that help customers live comfortably and economically, while softening their impact on the environment.