Introducing the 21st Edition of idronics™: Recirculating Domestic Hot Water Systems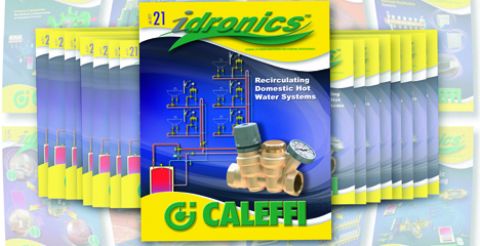 How often do you turn on faucets, bathtubs or showers, and then wait for warm water to arrive? This is common in many homes and commercial buildings resulting in wasted water, wasted energy and annoyed occupants. In the newest edition of idronics™, the objectives and benefits of Recirculating Domestic Hot Water (DHW) Systems in order to avoid this waste are explored. Modern methods and hardware can provide the exact thermal and safety requirements for simple, "single loop" systems and complex, multibranch recirculating DHW systems. The concept of temperature-based flow control and thermal balancing, as well as how to size, design and adjust these state-of-the-art systems is examined.
idronics is an industry respected educational design journal intended for hydronic, plumbing and renewable energy professionals. Subscribers to the journal will receive their complimentary copy in August 2017. For further subscription information, please visit www.caleffi.us.