Introducing The Newest Generation Of Hot Water Products From Triangle Tube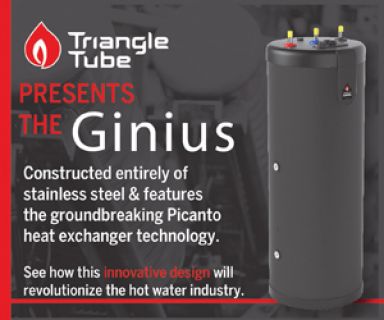 Triangle Tube, the innovators of the Smart tank-in-tank indirect water heater, has raised the bar again with the introduction of a new technology in indirect water heating. Introducing the Ginius tank.
Triangle Tube's Ginius is a high-quality high-performance indirect water heater with the new Picanto, a patented heat exchanger design. This innovated design allows for higher pressure ratings and higher output. In addition, the unique design offers less resistance to boiler flow than conventional coil heat exchangers.
The heat exchanger and the outer tank is constructed entirely of passivated stainless steel to ensure long service life.
The Ginius tank is backed by our lifetime warranty and is available in 4 sizes (35, 45, 55, and 65) including our 65-gallon "Flex tank" that features a dual heat exchanger configuration designed for super high-output or for use with multiple energy sources. The Ginius is approved for up to 80psi boiler pressure with excellent continuous hot water performance.
The Ginius was exclusively developed and created by ACV Triangle Tube. ACV continuously invests in innovative product development. Being a leader in the heating and hot water industry forces us to keep pushing the boundaries of innovation. We believe that by offering our customers amazing products with higher efficiencies and enhanced technology, we are empowering them to achieve excellence in the communities they serve.
Since 1946, Triangle Tube has been an innovator and industry leader in the manufacture and supply of quality stainless steel Hot Water Heating Equipment. ACV has recognized the importance of the availability of hot water in everyday life since the early 1920s. ACV Triangle Tubes serve all hot water-related demands in the residential and commercial sectors with sheer excellence. Triangle Tube, excellence in heating and hot water systems.