MagnaClean® DualXP™ Bridges the Gap Between Residential and Heavy-Duty Commercial Magnetic Filters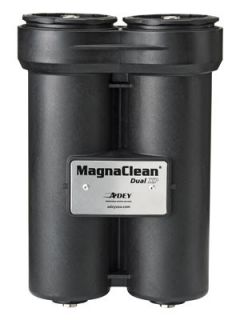 For contractors looking to solve problems caused by water quality issues with hydronic system installations in larger residential or light commercial applications, ADEY's MagnaClean DualXP provides a clear solution.
As the use of high-efficiency boilers and ECM pumps has increased, so has the importance of water quality. "Today's equipment really requires excellent water quality management to operate at peak efficiency," says Tom Tonkins, Director of U.S. Business Development for ADEY Professional Heating Solutions. "Iron oxide is the leading cause of damage in a hydronic heating system, reducing boiler efficiency and causing damage to key system components such as heat exchangers and pumps. We have seen efficiency reduce as much as 6% in as little as 3 weeks. That's a significant drop for a customer who expects a new HE Boiler to keep delivering on promised efficiency," says Tonkins.
Along with iron oxide, which on its own, can block narrow waterways and foul pumps, lime scale can cause water quality issues. Compounded by the presence of iron oxide, lime scale and iron oxide form a hard, enamel-like coating that further clogs and narrows waterways inside hydronic systems. 
MagnaClean DualXP virtually eliminates iron oxide
MagnaClean DualXP is part of ADEY's proven line of filters in Europe, and was introduced to the North American market last fall. This dual-chambered magnetic filter features two magnetic rods that capture and eliminate nearly all of the suspended iron oxide sludge circulating in a system within minutes of installation. The double chambers also house four non-magnetic capture zones for larger circulating debris.
Designed for 1½-inch copper and NPT iron pipework, MagnaClean DualXP is ideal for large residential and light commercial (e.g., churches, offices, small retail) applications. It can be easily fitted on the return pipe to the boiler/circulator, and features low-profile drain valves and built-in air vents for easier servicing. The unit also incorporates a three-in-one multi-tool, designed to remove the drain valve, air vent and lid assembly. It fits into the lid of the unit when not in use.
The ingenious design of the filter works as water is forced in a cyclonic flow around the magnet by the shape and location of the inlet and outlet, meaning there are no moving parts — other than the water itself. Installation of the filter does not block or restrict flow, and pressure drop is minimal.
By removing iron oxide sludge, MagnaClean DualXP not only extends the operational life of the system, but also offers benefits that save money and time for installers and homeowners…
Installer benefits:
Rapid in-line installation
Integral flow-diverters ensure 360° distribution for uniform flow around magnets
Powerful permanent magnet with high, first-pass capture
Bi-directional inlet and outlet – connect either way
Rotating filter connections allow customizable installation options
Easy dosing of ADEY treatment products via canisters
Full-flow valves for minimal pressure drop
End-user benefits:
Reduced heating bills
Reduced maintenance costs
Design allows for full flow at all times – no loss of pressure or heat
Extends system life
Zero operating cost
No moving parts to replace
Reduced carbon emissions
Part of a full line of ADEY Best Practice™ solutions
MagnaClean DualXP is part of a full line of ADEY filters that can be used in any size installation from small residential to heavy commercial. All MagnaClean filters are an important part of maintaining total system health through the use of a multi-step Best Practice™ approach designed to clean and protect hydronic heating systems for maximum efficiency.
Case Study
The Problem: Iron Oxide Sludge 
Iron oxide sludge, an unavoidable result of oxidation inside untreated hydronic heating systems, is a serious problem. 
Narrower waterways are now the standard in boilers — smaller-diameter pipes increase efficiency, but clog easily as sludge accumulates. This buildup causes a dramatic reduction in system efficiency, an increase in operating costs, and potentially expensive damage. 
Compounding the problem, ECM pumps, which have variable speed motors for higher efficiency, contain magnets. These magnets pull iron oxide into the circulator. Even very small quantities can foul the pump. 
The Solution: MagnaClean 
MagnaClean magnetic filtration technology virtually eliminates iron oxide sludge. MagnaClean relies on powerful, rare earth neodymium magnets to pull damaging iron oxide out of system water. As sludge is removed, system efficiency is restored. 
MagnaClean is changing the way contractors work, because customers routinely blame boiler or circulator failure for problems that are actually the result of the accumulation of system sludge and debris. As a result, contractors are forced to perform countless warranty repairs. 
"Contractors are saying they need a solution to this problem," says Tom Tonkins, Director of U.S. Business Development for ADEY. "We offer magnetic filtration technology to cure the problem. It's not a big investment, so it's an easy decision."