MagnaClean® DualXP™ Bridges the Gap Between Residential and Heavy-Duty Commercial Magnetic Filters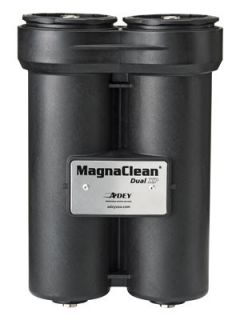 For contractors looking to solve problems caused by water quality issues with hydronic heating system installations in larger residential or light commercial applications, ADEY's MagnaClean® DualXP™ provides a clear solution. Part of ADEY's proven line of magnetic filters, the MagnaClean DualXP virtually eliminates iron oxide in hydronic systems.
The dual-chambered magnetic filter features two magnetic rods that capture nearly all of the suspended iron oxide sludge circulating in a system within minutes of installation. The double chambers also house four non-magnetic capture zones for larger circulating debris.
Designed for 1½-inch copper and NPT iron pipework, the MagnaClean DualXP is ideal for large homes, as well as churches, offices, small retail structures and other lighter, nonresidential applications. By removing iron oxide sludge, the MagnaClean DualXP not only extends the operational life of the system, but also offers numerous time- and money-saving benefits for both installers and their customers.