Pre-adjustable Pressure Reducing Valves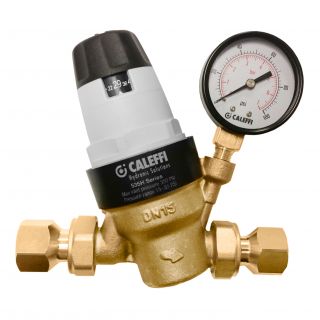 Caleffi introduces the 535H Series, ½ inch to 1 ¼ inch pre-adjustable pressure reducing valves, ideal for residential and commercial applications, with a dial indicator for direct psi setting and optional pressure gauge for local downstream pressure indication.
The 535H features a unique noise reducing, low-friction, pressure-balanced and replaceable cartridge for control stability. High-temperature rating of 180°F and high-pressure rating of 300 psi make it ideal for hot water booster systems. The self-contained cartridge is removable for easy inspection, cleaning and maintenance including replacement if needed. 
Connection types include sweat, press, PEX barb and NPT. The 535H is certified to ANSI/NSF 372, low lead laws and meets U.S. and Canadian plumbing codes.
CALEFFI – Creating innovative, superior performance products that help customers live comfortably and economically, while softening their impact on the environment.
For more information, visit Caleffi's Web site at www.caleffi.us, e-mail, or call (414) 238-2360.