SALUS Unveils New Smart TRV Control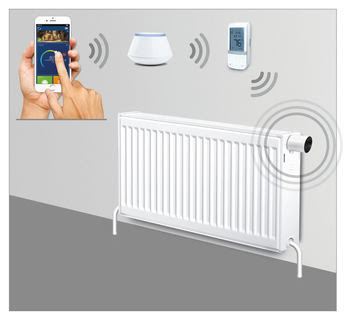 Heating / cooling controls specialist, SALUS, continues to expand its Smart Home range of connected products with the addition of the TRV Smart Radiant Control. This latest device enables users to precisely control their hydronic radiant panel, baseboard, or radiator to heat to the exact temperature and from wherever they may be.
Suitable for both retrofits and new installs, the battery-operated Smart Controller features an electrical device that works to open and close the hot water or steam valve to produce more accurate room heating. A thermostat with exact temperature settings, located away from the hydronic heat source, wirelessly controls the heating device can monitor the actual ambient room temperature to ensure better accuracy and comfort.
Just one single smart thermostat can control several heating devices in the same room or be zoned to maintain the desired room temperature and increase energy efficiency. Individual or grouped thermostats can also be programmed independently of the main heating system to turn on and off when the space is not being used, or when the temperature is satisfied.
Furthermore, by connecting the Smart Controller through the SALUS Smart Home Hub, the user can control individual thermostats from anywhere using a Smartphone, Tablet or PC via a simple app. Settings can be simply changed to avoid heating a home unnecessarily when away, while still ensuring comfortable before returning. Groups or individual thermostats can also be turned off or adjusted simply and quickly without having to visit each room to manually adjust a TRV. Adding other SALUS Smart Home devices to the system provides even more options and flexibility. These include turning off radiant panels, baseboard or radiators in a room where the window has been left open.
John Thomas, SALUS North America's Director of Sales & Marketing, comments: "This latest device provides superior heating control. While traditional mechanical TRVs are effective, they can often be inaccurate as they have little bearing on the ambient temperature of the room as the temperature effect occurs right next to the radiator itself."
John adds: "When combined with our Smart Home System, users can extend the flexibility of the Smart Controls and also connect other devices such as door and window sensors, or smart plugs, so that they link up and interact with each another to create a truly Smart Home."
Installation of the Smart TRV Control is simple, and the interface to the thermostat and Smart Home Hub is wireless, which means that no additional wiring is required. The SALUS Smart Home app also enables the user to quickly setup, configure and program the system. The Smart TRV Control is available from SALUS' nationwide network of distributors and OEM.
All smart controls and Smart Home products are available from SALUS' nationwide network of distributors or OEM. Visit www.salusinc.com