State-of-the-Art Greenlee® ErgoLab Teaches Importance of Ergonomics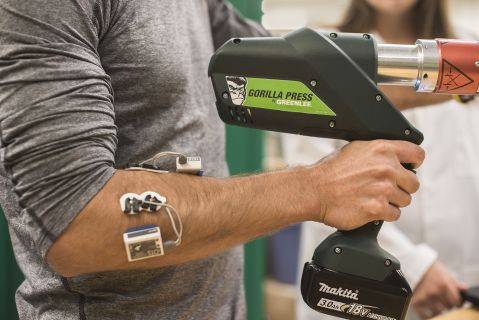 In-house ergonomist is helping companies reduce work-related injuries
Companies are benefiting from the Greenlee Textron Inc., a Textron Inc. (NYSE: TXT) company, industry-first ergonomics laboratory, Greenlee® ErgoLab. The Rockford-based laboratory offers state-of-the-art equipment to identify a tool's ergonomic value through scientific testing, measurement and analysis. This analysis helps tools users, along with purchasing officers and decision makers determine the best tools to utilize on the jobsite. A mobile version of the ErgoLab was also developed to offer jobsite analysis.
"The ErgoLab gives Greenlee the ability to analyze and deliver objective data and offer all our business units the ability to quantify a tool's worth," said Jacob Thomas, Ergonomic Specialist. "Comparing muscle efforts against ergonomic qualities allows tool users and decision makers to see and understand the short and long-term health and safety benefits. This insight makes the purchasing decision process that much easier."
At the ErgoLab, customers can observe their muscle contractions with a variety of tools and in a variety of positions. This will help them to make an informed decision about which tool is most beneficial for their use. The Greenlee ErgoLab mobile unit allows ergonomists to bring the testing equipment to customers' jobsite.
"The idea came about when our ergonomics analysts saw the need to improve the quality of life for the next generation of plumbing, utility and electrical workers. Our team began to identify the initial point of injuries and trace many repetitive and long term injuries back to ergonomic issues that can be fixed through redesigning, reengineering and improving work practices," said Thomas.
Using state-of-the-art electromyography analysis equipment and ergonomic evaluation software, Greenlee researchers can measure and record the amount of electrical activity produced by the skeletal muscles. In addition to this, they are also able to collect grip strength and bio feedback information such as heart rate, ECG Waveform and skin temperature. Companies interested in the Greenlee ErgoLab can schedule a demonstration or request more information by emailing ergonomics@greenlee.textron.com.