Taco Expands the Zone Sentry® Zone Valve Line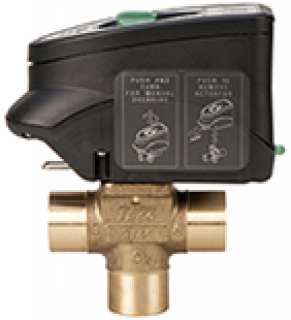 Taco has added a new Multi-Volt Zone Sentry zone valve.
This new zone sentry allows one actuator to accept input voltages between 120 and 277VAC 50/60HZ. This means one SKU can replace approximately seven SKU's of a standard synchronous motor style control valve or zone valve. Like the 24VAC version of the Zone Sentry, the Multi-Volt provides similar energy efficient characteristics over other valves. These new zone valves are designed for use in hydronic HVAC systems, primarily in fan coils and air handlers or other HVAC systems where reliable line voltage zone valves are required. They can be installed in both heating and cooling applications and are available in a normally closed or normally open configuration. 
Two new press connections in 1/2-inch and 1-inch sizes have also been added to the Zone Sentry line-up. The valves provide on-off, normally open or normally closed control in closed-loop hydronic systems. The valves can be used in a wide variety of heating and condensing cooling applications, primarily designed for use with baseboard, fan coils, radiators, convectors, air handlers, heat pumps and radiant applications.
Press connections have grown in popularity with installers because they eliminate the added time, cost and potential leak created when installing press adaptors to a threaded valve. In the case of a sweat valves, press connections greatly reduce installation time and eliminate the need for a torch, which can be a challenge where an open flame permit is required.