The Perfect Mix from Caleffi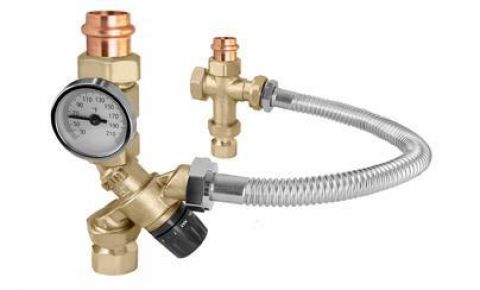 Packed with exclusive features, the new 520 Series TANKMIXER™ quick-connect kit is the perfect mixing valve solution to maximize capacity of modern, high-efficiency (HE) water heaters and minimize installation time.
Everything needed for fast installation is available in the kit, including a cold water cross with check valve, flexible pipe and press, sweat or NPT fittings. With a minimum flow rating of 0.5 GPM, TANKMIXER delivers stable temperature to today's HE fixtures. Connecting a recirculation circuit is easy with the integral inlet port on the cold water cross and a tight hot water close-off prevents recirculation line temperature creep to protect pump's aquastat service life. Made with anti-scale polymer materials insures stable temperature control and long life.
CALEFFI – Creating innovative, superior performance products that help customers live comfortably and economically, while softening their impact on the environment.