Three essential functions to all hydronic systems in one device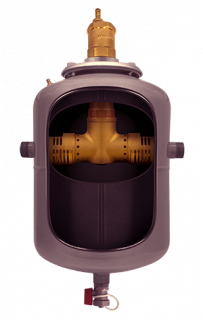 Calefactio pioneers with The ONE
Calefactio Solutions is proud to present The ONE(TM) expansion tank, a device combining three functions that is unique and exclusive to Calefactio and allows important time, money and space savings while minimizing the risks of leaks.
The ONE(TM) expansion tank has won the New Products competition in the heating and/or air conditioning hydronic components category at MCEE, Montreal's biennial plumbing show. It combines three essential functions in plumbing: an expansion tank, air & dirt separation and deaeration, resulting in important savings.
Time Savings : Instead of buying and installing three separate devices to perform these functions, simply install the tank
Money savings : In addition to saving on material costs, it is much quicker to install The ONE(TM) than to install an expansion tank, an air & dirt separator and an automatic air vent. Productivity is thus greatly improved.
60% less chances of leaking : as the tank is linked to the system by two NMP connections, it only create two joints on the line compared to five in a traditional installation.
Ingenious design
The ONE is designed to be durable, easy to install and maintain. Its EPDM bladder protects the shell from any and all contact with heating fluid that would cause corrosion and eventually threaten its proper functioning. Its bladder is replaceable and is equipped with a drain valve, for easy maintenance. The high efficiency air & dirt separator quickly reduce fluid velocity because of its large diameter and slots. The coalescent media offers a vast contact area, facilitating air and dirt particles to hang. The automatic air vent has an oversized chamber not only allowing greater amount of air to be liberated, but also protecting the valve from any and all contact with the heating fluid because of the important distance between the valve itself and the liquid level.
The ONE(TM) is available in Canada and United States. It is available in 2.1 and 4.8 gallons versions and is unique and exclusive to Calefactio. For more information, please see our local agents page.