Uponor re-engineers residential valves to deliver greater quality and value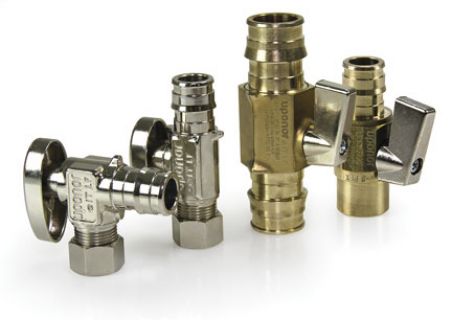 Uponor North America (Uponor) continues to bring innovation, confidence, value and performance to PEX piping systems with the launch of their re-engineered ProPEX® lead-free (LF) brass valves for residential plumbing applications.
Developed by an established valve manufacturer with more than 35 years of experience, Uponor's new offering is constructed from high-quality ECO BRASS® lead-free brass and now includes an industry-leading 10-year warranty for increased confidence and peace of mind. The re-engineered valves are also available at a more affordable price, providing greater value on every job.
In addition to providing trusted quality and increased value, the upgraded valves are the only leading valves on the market to comply with the International Plumbing Code (IPC), Uniform Plumbing Code (UPC) and International Residential Code (IRC), as well as being listed to NSF 14, NSF 61, NSF 359 and NSF 372, providing superior confidence in a product that is code-compliant and listed for all plumbing installations.
"For more than 20 years, Uponor has been providing trusted, reliable AquaPEX® plumbing systems that contractors, homebuilders and homeowners have come to depend on for high performance and leak-free confidence," says Jayson Drake, director, Plumbing and Fire Safety at Uponor. "We believe in offering our customers high-quality solutions they can feel good about installing in their homes. And now offering our re-engineered valves with a longer, 10-year warranty at a more affordable price shows our commitment to providing high-value products and systems that are manufactured to endure the test of time."
The complete line of re-engineered ProPEX LF brass valves features six products in three different configurations — angle and straight stop for ½" pipe, copper to PEX for ½" and ¾" pipe, and PEX to PEX for ½" and ¾" pipe.