Ushering in the 25th Edition of idronics™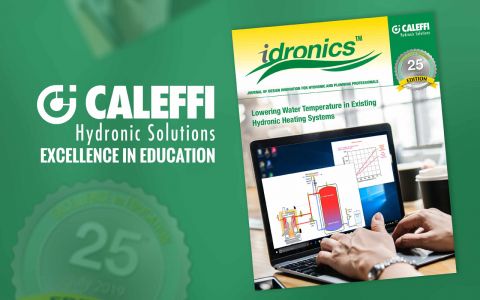 The 25th edition of idronics™ is now available and discusses techniques for lowering water temperature in existing hydronic systems to make them compatible with modern high efficiency heat sources. Lowering Water Temperature in Existing Hydronic Systems examines practical methods for modifying existing distribution systems, presents analytical methods for evaluating options and demonstrates practical solutions.
A new look ushers in the 25th edition for the popular journal, reflecting Caleffi North America's dedication to Excellence in Education. "A substantial amount of our marketing expenditures are invested in education," says Caleffi CEO Mark Olson. "It's a cornerstone of how we do business. We strive to be the best at it."
idronics is an industry respected educational design journal intended for hydronic, plumbing and renewable energy professionals and is produced semiannually. Subscribers to the journal will receive their complimentary copy in August. For further subscription information, please visit www.caleffi.us.