WaterFurnace Launches New Website for the Commercial HVAC Market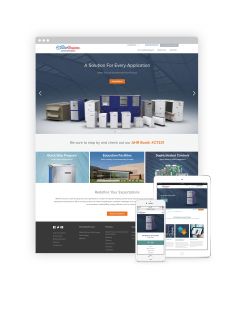 Feature-rich site includes expanded product line with focus on water source and geothermal technology
WaterFurnace International, Inc., the leading manufacturer of water source and geothermal heat pumps, is launching a new commercial website in conjunction with the 2019 AHR Expo, January 14-16 in Atlanta.
The new site includes responsive design for mobile browsers and enhanced graphics, transitions, and animations to showcase the company's evolving product offerings. The new interface has been simplified for easier navigation and to help users find information more quickly. Product pages include more space to communicate the benefits each brings to the market and to better educate visitors. The site also includes new tools to find commercial reps, build product nomenclatures, and software for energy modeling and product configuration.
"We're excited to bring this robust and informative website to our customers," said Tim Litton, director of marketing communications, WaterFurnace. "The site is now a more accurate reflection of our focus on the commercial and industrial markets, the investments we've made to upgrade our commercial rep network, and the industry-leading innovations we've engineered in a relatively short amount of time."
To view the new commercial website, go to https://www.waterfurnace.com/commercial/.