Webstone's New Radiant Solutions Program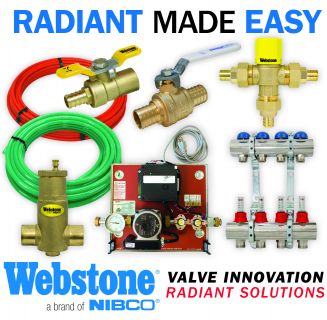 Now offering everything but the heat source! Over sixty NIBCO radiant heating products are now available through Webstone, including radiant heat panels, PE-RT and PEX tubing/accessories, manifolds, and valves. The program features the exclusive Take the Next Step™ design service, whereby qualified engineers will customize your system layout at no additional cost. Visit WebstoneValves.com/radiant to learn more about how Webstone is making radiant easy.
Founded in 1954, Webstone now operates as a brand of NIBCO and is recognized as an industry leader for innovative design of residential and commercial valves used in plumbing, hydronic, radiant, solar and geothermal applications. These designs focus on time and space saving concepts that simplify future maintenance and upkeep of all piping systems. Some of the Webstone trademarked and patented items include; Hydro-Core™, The Isolator®, Isolator EXP™, Pro-Connect™, and Pro-Pal® step-saving valves.