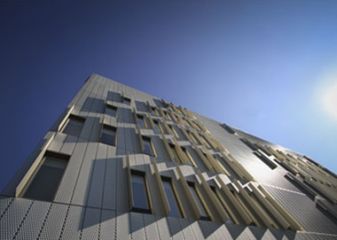 The concept of sustainability has arguably never been as widely discussed, nor as important, as it is today.
Individuals and businesses across the world are looking at ways of improving what they do on a day-to-day basis to minimize their impact on the environment. Some industries and sectors by their very nature have a greater focus here than others, and the property development sector is one such example. This is hardly surprising, given its responsibility not only for so much newly built infrastructure, but also for encouraging individuals to behave sustainably in their own homes and workplaces. 
Eco-friendly heating solutions 
The world of architecture tends to attract people who like to consider themselves visionaries, and it is fair to say that some truly innovative strategies and techniques are being employed today that utilize new technology in order to make heating systems more eco-friendly. The property expert Kenny Slaught, for example, has written and spoken extensively about the need for eco-friendly solutions in architecture. 
Here are just a few examples of how the industry is already responding to the challenge of heating buildings in an eco-friendly way: 
Passive solar- Solar energy is well known and increasingly popular, with more and more people having solar panels installed in their homes. Passive solar energy, however, goes one step further than that. The concept is all about incorporating methods of harnessing the sun's energy into the design of your house without any mechanical devices; this is achieved through measures like large, sun-facing windows, and using the most effective materials for storing heat. 
Ground source heat pumps (GSHP) - These clever devices allow you to use solar heat that has been stored in the ground to warm your home or workplace. To put it simply, a pump collects the heat and turns it into energy, which can then be used immediately or even stored for future use. The downside is that installing such systems is very expensive and only around three-quarters of a building's energy can be generated in this way. 
Wood-pellet stoves - Popular in Nordic countries, where they have been developed, these systems use softwood pellets made of wood byproducts like sawdust. They are therefore much better for the environment than fossil-fuel systems and encourage re-forestation. The environmental impacts are not fully understood, particularly with regard to impacts on natural habitats, but the potential is hugely exciting. 
Landmark buildings vs. everyday property 
There have of course been a few large-scale landmark buildings that exemplify this eco-friendly approach, such as Ken Yeang's bioclimatic skyscraper. They apply all the latest thinking and technology and get a great deal of media attention as a result. 
Such buildings help to inspire the industry to keep innovating in this way and also work on making the technology accessible to smaller, everyday property developments. There are still challenges here though, particularly the prioritization of other considerations such as cost and aesthetics, and even the cynicism from a few leading architects about the importance of green design. 
Making a difference 
To really make a difference to the world and its future, the property development industry must overcome these challenges and help turn such brilliant innovation into the norm rather than just the exception. The potential is unarguably there and every day we are seeing more examples of it becoming a reality. As climate change and sustainability become increasingly more urgent and pressing issues, it is more important than ever for the property industry to respond to this and play a leading role in addressing them.