Choosing The Trades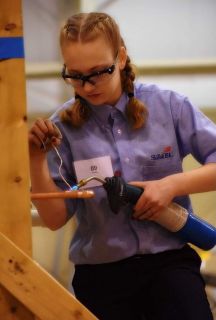 It's four years ago, and 8th-grader Paige Knowles is walking down new corridors and thinking about her future. She's able to get a glimpse of the different labs, but the construction wing interests her the most. It reminds her of the tasks her parents give her at their investment properties. "They just paid so much money for one drain cleaning!" she thinks. "What if I could do these jobs for them and help our family save some money? Wouldn't that be great?"
Paige is now a senior at both Parkland High School and the Lehigh Career and Technical Institute. She's having a year that's a lot different than what many other students are experiencing. Paige is considered a non-traditional student because she's enrolled in the plumbing and heating lab at LCTI. She's a level four in the lab, so she gets to participate in cooperative education. She works at Deluxe Plumbing and Heating while still in high school. She gets to balance real-world experiences against what she is learning in academic classes in school.
Paige is my sister, and her motivation inspires me. She is enrolled in online courses so she can work nearly full-time at Deluxe. She does take some days off to stay up-to-date on her schooling, though. She wakes at 5:30 AM and heads to work, no matter the weather. Her day is usually 10 hours long, which doesn't bother her, because she is learning every minute. Additionally, Paige has been involved in SkillsUSA since her freshman year of high school. She competed in the plumbing competition during her junior year, and again in 2020. She went on to the plumbing-district competition, where she placed first. Last year, she finished second in the state competition. This year, she will also attend the state competition, and she is driven to achieve first place in order to move on to the national competition. I asked Paige about her goal, and she said, "I want to win against these boys to show them that I can do the same work as them, but better. I want to inspire other girls to go after what they're passionate about. I love plumbing, and I don't care what other people think about that."
It's true that others have questioned Paige's career path, but she is invulnerable to their criticism. Being in the trades doesn't mean you can't do other things, either. Paige is involved in an extracurricular, strenuous activity called Moxie Colorguard. At the end of a tough day, she still shows up to practice. And she sleeps soundly each night, knowing she is doing two activities that she loves.
So please share my sister's story. It can inspire other girls to involve themselves in a trade. Sure, the work is tough, but it is also truly rewarding, and you can make a good living doing it. Paige is one example of the many strong, motivated females in the world, but there still aren't enough. Take the time to speak with a young girl you know about the options she has. Make her aware that it is not necessary to go to college, or to work a job she won't like. Share Paige's story. Just share it. It takes a few seconds, but you can change a young woman's life for the better, and that can make all the difference in the amount of women in construction.