A Maryland Hydronic Retrofit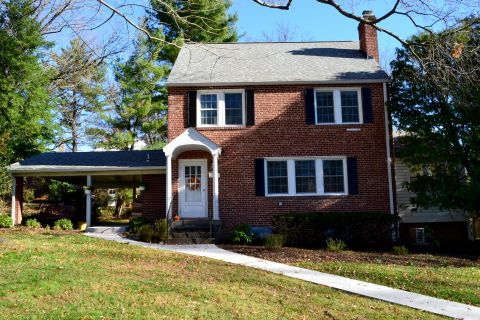 My husband, Andrew, and I purchased our home four years ago right before Thanksgiving. Like many young couples, we began our home search with a rather unrealistic list of criteria that ranged from school district to HVAC system.
After a few months, the reality of a competitive housing market and the pressures of time and budget whittled down that list to two main things: "Is it close to work and can we afford it?" Somewhere along the way questions like, "Is this house comfortable? Is the heating and cooling system efficient?" were pushed off our radar. Buying a foreclosed home as-is, which was once out of the question, became a suitable gamble. How bad could it be, right?
The 1940s-era brick colonial that we now call home sits in a leafy neighborhood of Silver Spring, Maryland. When we first drove up to it, I marveled at the large driveway. After searching for parking for seven years in Washington, DC, this was a welcome sight. And since my family would be visiting often from New York, I knew it would be a welcome sight to dear old Dad too. The heating system? Now, that was another thing entirely.
The inside of the house was charming, but was in need of love. It was a foreclosure property that had sat vacant for over a year with a winterized plumbing system. It was heated with forced-air, which we'd begrudgingly grown accustomed to after living in a DC high-rise. When we first woke the home's furnace from its deep sleep, it spat air unevenly into the chilly house from various vents. Andrew and I looked at each other wearily and shrugged, weighing the pros and cons. This would have to do. After all, how bad could it be?
The home inspector handed us a 40-page assessment and wished us luck, insisting it was a great deal, but knowing this house would soon make us older than we looked. We took the leap and signed the papers. Then I tried to figure out how to break the news to my hydronics-loving Dad that I'd just purchased a home with a furnace and that there was no heat in his third-floor guest room. But what a deal!
Within a week, water was pouring from various ceilings and we saw how bad "as-is" could be. Thanksgiving would have to be held elsewhere that year since there was an old, cast-iron pipe with a lateral crack in it running across the kitchen ceiling of our dream home.
Over the next year, we fixed as many things as our budget would allow. We called Dan Foley of Foley Mechanical in Lorton, VA and asked him to take a look at the HVAC system. Dan's been a friend of our family for years and is an all-around great guy. We knew we'd be in good hands. First, he made sure the heating-and-cooling system was operating safely and replaced the aging, leaky water heater with a 52-gallon electric model. Our AC condenser was gasping for air under a deck in the backyard, so Dan's team kindly moved it to the side of the house where it could breathe freely.
Our home has a first-floor, half-bathroom addition that sits on a concrete slab with minimal insulation. In the winter, when we weren't using it as a second refrigerator, we were worrying about frozen pipes. Foley's experts adjusted the ductwork as best they could within our budget to bring more warm air into the space.
My parents were visiting for New Year's Eve a few years later to spend time with their new granddaughter, Bridget, and us. After a few drinks and a Shackleton-esque expedition to our half-bath, my dad decided he was going to write an article about our HVAC system. "Perhaps you should have bought a house with a boiler," he said. I rolled my eyes and was hoping he'd forget about writing the article, but knew that the space heater in the guest room would remind him in the morning.
And so Dad's article was printed a few months later...and I soon got a visit from our friend Dan Foley. He was coming over to talk about his website, which I manage, and to do routine maintenance on our system. He put the magazine on our dining room table and jammed his finger into the line that read, "I've had a dear friend who is one of the sharpest heating contractors I know look at this system, and he's not able to balance it. It's terminal."
"We're going to fix this," Dan said.
"How?" I wondered.
"We're going to do a hydronic retrofit," he replied.
"You're putting in an entirely new system?"
"We don't do anything halfway."
And he was right. We made an agreement and a few months later the professionals from Foley Mechanical showed us how this home should be heated and cooled. They did a heat-loss calculation using Right-Suite software and walked through each room and devised a plan to make the house comfortable and more efficient.
They upgraded the AC system, by installing a new Carrier 16 SEET AV unit, lineset, and variable speed air handler. They modified accessible ductwork and sealed joints, added a large, boxed-in return to the first-floor to improve airflow, and replaced registers and grilles. They installed an LG Art Cool unit on the third floor so the guest room would never again suffer from a stifling DC-area summer. And we could get rid of the massive, looming window unit once and for all.
To keep our home cozy in the winter, they installed an NTI Trinity modulating-condensing gas boiler that feeds a combination of Burnham Baseray, Radson panel radiators, and a Runtal towel warmer radiator. The panel radiators contain Honeywell TheraPro TRVs. A Honeywell AQ series boiler and zone control with outdoor reset runs the show for five different zones. And I can control all of these zones from my smartphone with a very user-friendly app.
The system also contains a Legend hydro-separator, Taco 007 and Viridian circulator pumps, Taco Sentry zone valves, and Webstone flanges and valves. Foley Mechanical's dream team replaced the electric water heater with a 50-gallon NTI stainless steel indirect DHW tank and connected it to the boiler. 
It's almost Thanksgiving again, marking our fourth year here. Our home has never been this quiet and comfortable, our mechanical room is a work of art, and our fuel bills are much lower. And we have Dan and the fine folks at Foley Mechanical to thank for that.
This is what happens when two Irishmen challenge one another and you combine fine products with industry expertise.
There is a panel radiator running up the wall in our half-bath that's the size of a rock at Stonehenge...or a giant middle finger. I'll let you decide. Either way, it will never be cold in there again.
This winter, my dad will be sitting in his favorite chair in our now-cozy sunroom, drinking wine and eating crow.