The Lovely Marianne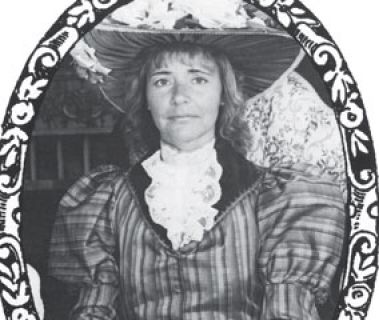 The photographer asked her not to smile, which gave us even more incentive to try to make Mom laugh. It was a hazy afternoon in Cape May, NJ. My three sisters and I huddled together amongst the taffeta and lace in the old-timey Victorian photography studio. Our skin slightly sunburned and our hair still damp from swimming. Not much could have pulled us away from summer fun, but this (and the promise of ice cream after) made it well worth our while.
When Dad had asked Mom if she'd pose for the photo on the dedication page of his first book, The Lost Art of Steam Heating, she thought he was kidding. He told her how perfectly it would fit with the theme of the book. And then she agreed because she thought about how far they'd come and how they were almost there.
I imagine the uncertainty must have been hard for her the day Dad left his job at the manufacturer's representative to build a better life for all of us and work on his first book. She never said anything to us girls. We were much too young. What I do remember was the two of them working harder than I've ever seen anyone work. Dad would spend long days in the field consulting on heating jobs and come home to write. And amidst the frenzy of feelings that surround four young girls, there was Mom, taking multitasking to a whole new level.
On weekends, we'd wander dusty aisles of old bookstores with Dad, his fingertips dancing along the spines on shelves, searching for lost treasures. Later at home, we'd watch him examine their yellowed pages, his brow furrowing in concentration, only to rise in an occasional aha moment. And then he'd write and edit and write some more until, years later, it was finally finished.
And so Mom humored Dad and gave the photographer her best Mona Lisa for the sake of authenticity. People didn't smile in old photos because cameras had much longer exposure times and they had to keep their faces as still as possible. And so their expressions were frozen, forever sullen, while they were probably anything but. After all, they had the wonders of steam heating, right?
Mom's stifling taffeta gown had collar covering her entire neck in a nod to Victorian modesty. A heavy hat covered in flowers kept sliding jauntily to the side of her head, testing her petite frame. We giggled at her from the corner while she laughed with us in between camera flashes.
When the first copy of The Lost Art of Steam Heating arrived in our home, we opened it and saw the photo of Mom. The caption read, "For 'The Lovely Marianne,'" Dad's love note to her, a dedication for all of her dedication. Dad may have written the pages, but Mom was the glue that kept us all together, through the struggles, the silliness, and everything in between.
Here's to you, Mom. Happy Mother's Day!