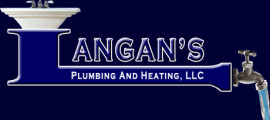 Langan's Plumbing & Heating LLC is a quality plumbing and hydronic heating company. We offer our clients service. Training and education goes hand in hand as we strive to offer the most current technology available, while not forgetting the basics that make us plumbers. Our motto has, is and always will be "Considerate People, Considerate Service, Consider It Done!"
We provide all phases of residential and commercial plumbing and hydronic heating services, such as new plumbing systems, remodeling plumbing systems, water heaters, boilers, solar-thermal, radiant systems, gas-pipe design and installation, and all phases of plumbing service from faucets, fixtures, hose bibs, leak repair to heating tune ups and winterizations of summer properties.
Louro New Home (Louro Development Group)
Challenge
This customer is also a quality builder. He wanted his home to be a showcase for the benefits of radiant heating. Rich McGrath and I set out to design a system that would run efficiently and respond quickly. This customer also has the equipment to add solar thermal to bring his efficiency even higher and we're currently working on this.
Approach
After several meetings and discussions of budgetary concerns, we performed the room-by-room, heat-loss calculations and began equipment selection. We selected an HTP Versa Hydro Solar unit. This unit has 119 gallons of storage (mass) that uses a heat exchanger for the radiant-heating portion of the job. We oversized the manifold at the boiler and the leaders to the remote manifolds. We installed a Callefi hydraulic separator and used a Taco OOVDT at the manifold source side of separator. The five remote manifolds each have a Taco Bumble Bee smart circulator, and the zones are similarly allocated by temperature requirements. The radiant tubing is Uponor HePex. The tubing is installed in Sun Board graphite-coated panels for optimum heat transfer. One area (staircase) is wall radiant. The basement slab has embedded tubing with R4 thermal- and vapor barrier below.
Solution
The solution has proven to meet all concerns. This 7,234 square foot home performed beautifully and kept the gas bill to just $123.00 a month during the winter. As I mentioned, we will be bringing the solar-thermal portion of the job into play for even greater efficiency and savings. Our client is very pleased!