A new edition of the Webstone Product Catalog is now available.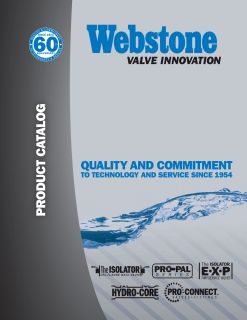 This easy-to-use catalog highlights the features and benefits of Webstone's innovative valve line. It showcases a wide array of labor-saving products for the plumbing and heating trades. Learn how to save time and money by choosing step-saving Webstone products over traditional labor-intensive alternatives.  
Founded in 1954, Webstone is recognized as an industry leader for innovative design of residential and commercial valves used in plumbing-, hydronic-, radiant-, solar- and geothermal applications. These designs focus on time- and space-saving concepts that simplify future maintenance and upkeep of all piping systems. Some of Webstone's trademarked and patented items include; Hydro-Core™, The Isolator®, Isolator EXP™, Pro-Connect™, and Pro-Pal® step-saving valves. Visit the website.