ADEY® MC5™ and MC40+™ System Treatment Formulas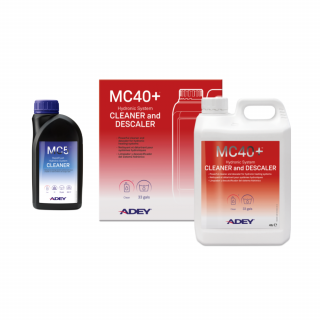 ADEY, a U.K- based company whose pioneering MagnaClean CMX® range was recently rolled out in the United States and Canada, is introducing a line of innovative, concentrated system treatment formulas, designed to clean and protect older hydronic heating systems and retrofit installs. MC5™ Cleaner and MC40+™ De-scaler serve different purposes, but both were created to combat a frequently overlooked enemy of untreated hydronic heating systems – black sludge.
The MC40+ Hydronic Heating System Cleaner & De-scaler is a high-strength powdered chemical, specially designed to restore existing boiler systems by removing lime-scale deposits, calcium and magnetite. Rapid-performing MC40+ delivers an advanced clean, with a highly concentrated formula, in as little as one hour. It even comes with neutralizer packets to provide extra peace of mind if there is concern over residues being left in the system.
The second, MC5 Hydronic RAPIDFLUSH System Cleaner, is a high-performance, advanced-strength product, designed to work with ADEY's award-winning MagnaCleanse® flushing unit. Together, they effectively remove sludge, debris, and scale while delivering exceptional cleaning results quickly.