Aeroseal Introduces New Duct Sealing System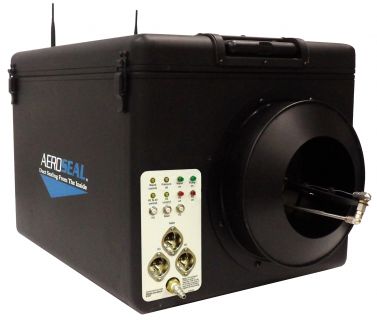 Improved Functionality And Reduced Maintenance Requirements Makes HomeSeal Connect The Ultimate Tool For Performance Contractors
Aeroseal today unveiled HomeSeal Connect, the latest, most powerful residential duct sealing system for performance contractors. Redesigned with a variety of new productivity-enhancing capabilities, HomeSeal Connect provides advanced system performance and technical support features, while reducing and simplifying routine maintenance requirements.
"We've made productivity-boosting improvements to both the brain and the heart of the Aeroseal duct sealing system, making duct sealing easier and more profitable than ever," said Bryan Barnes, Aeroseal's vice president of business development, "With HomeSeal Connect, contractors will spend less time prepping for the job as well as less time on each project – and that means more time available for generating additional revenue."
A New Brain
HomeSeal Connect includes a number of new features designed to make the system smarter and faster than ever. The system comes with advanced integrated circuitry that improves the overall speed and performance of the equipment. A new wireless static card and stronger, faster wifi enhancements provides quick, secure connectivity to the system's reporting and support service features.
"HomeSeal Connect is smarter than ever," said Barnes. "A strong, direct connection with the home office allows our technical team to provide immediate remote system analysis for in-the-field technical support and automatic software updates. If an Aeroseal dealer has a question while on the job, our support staff can review the equipment settings and do all the diagnostics on the spot - and that translates into reduced down time and more attention to the job at hand."
A New Heart
HomeSeal Connect is not only smarter but it's also more robust. A redesigned injection system improves sealing speed by 25% or more. The improved injection system design also makes routine cleaning and equipment prepping easier than ever.
"HomeSeal Connect is the dream machine for those looking for a simple, low-maintenance way to keep their business generating profits," said Barnes. "In just the past few years, Aeroseal has shown how duct sealing service can be the growth center for contractors focused on HVAC system and total home performance. HomeSeal Connect is proof of our continued commitment to helping our dealers succeed."
For more information on HomeSeal Connect or on becoming an Aeroseal dealer, visit www.aeroseal.com.