An Industry Exclusive Solution: PLUMBVENT™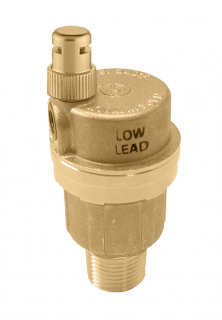 The industry exclusive PLUMBVENT™, a space-saving, low lead automatic air vent designed and manufactured specifically to vent air from water at high points in plumbing and domestic hot water system piping, is now available. Common applications include air elimination on domestic hot water storage tanks, at the top of plumbing risers and near the inlet of a hot water recirculation pump to reduce the potential for air lock.
"We receive several Tech Support calls from contractors and wholesalers looking for a low lead air vent for plumbing applications. We responded to that market need with PLUMBVENT," states Kevin Freidt, Director of Product Management and Technical Support.
The NA5026 Series vent is ICC-ES certified to NSF/ANSI 372 ( Drinking Water System Components ), and complies with California Health and Safety Code 116875 S.3874 (AB1953) and Vermont's S152 low lead laws. It meets codes IPC, IRC and UPC for use in accordance with the U.S. and Canadian plumbing codes. Available in ½" NPT male connection, the vent is supplied with a safety hygroscopic cap to protect against potential vent leakage .