Bell & Gossett to Unveil New HVAC Pumps at 2020 AHR Expo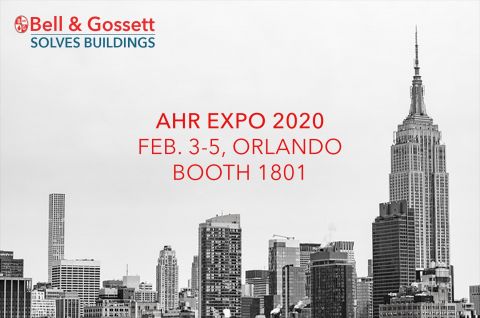 Xylem Bell & Gossett will demonstrate how it is solving today's most critical water challenges in commercial buildings with a full range of energy-efficient and space-saving system solutions during the 2020 International Air-Conditioning, Heating, Refrigerating Exposition (AHR), Feb. 3-5, in Orlando.
In an interactive 3D display at Xylem Booth 1801, Bell & Gossett will spotlight its work in marquee buildings in cities throughout North America. Bell & Gossett hydronic HVAC and plumbing systems are featured in state-of-the-art health care and educational facilities in Boston to sports stadiums and hotels in Los Angeles to corporate headquarters in Dallas and high-rise condos in Miami, and more.
"Energy savings and sustainability are top priorities for commercial building owners across the United States and Canada," said Tom Haffner, director of marketing — Commercial Buildings Americas, Xylem. "Together with our trusted network of manufacturer's representatives, we're deploying our systems expertise and industry-leading product portfolio to help building owners achieve those goals."
AHR Expo attendees are invited to visit Xylem Booth 1801 at 11 a.m. and 1 p.m. Monday for a special announcement in conjunction with Xylem's acclaimed corporate social responsibility program, Watermark.
"We are launching a philanthropic initiative to protect and enhance the natural environments around which our cities are built," Haffner said. "From educating people about water issues to ensuring safe water resources for our communities, Bell & Gossett and its rep network are committed to making a difference in the places where we live and work."
New pumps on display
During the AHR Expo, Bell & Gossett will debut its newest line of highly efficient in-line centrifugal pumps designed for commercial building HVAC and plumbing — the e-82 twin. Engineered with a space-saving design, the e-82 twin is ideal for a wide range of applications. The twin in-line pump is available in 22 models (11 split-coupled and close-coupled models each) and features a changeover valve for the option to operate pumps separately or in parallel.
Parallel pumping offers many advantages, including redundant capacity, smaller horsepower motors and drives, improved PLEV (part load efficiency value), and higher motor and drive efficiencies at part load. The e-82 twin offers parallel pumping without larger headers and additional isolation valves. In parallel mode the pumps can handle flows up to 1600 GPM with head up to 130' TDH. The new pump's design also facilitates easy maintenance and part replacement, enabling the removal of the impeller, seal and motor without disconnecting the piping system.
Additional highlights of the Xylem booth include: an augmented reality experience with the featuring the benefits of Bell & Gossett's specially designed HVAC pump, the e-HSC; demonstrations of Bell & Gossett's intuitive online selection software, ESP-Systemwize; and displays from its portfolio of industry-leading, DOE 2020-compliant pumps.
Series e-HSC Double Suction Centrifugal Pump
The Bell & Gossett Series e-HSC line of double suction centrifugal pumps delivers powerful performance and high efficiency for commercial applications. Designed for HVAC systems, the Series e-HSC provides greater optimization to improve efficiency and increase energy savings with advanced hydraulics and 90 model options for ultimate customization. The Series e-HSC boasts a smaller footprint, greater reliability and lower lifecycle costs compared to similar pumps. In addition to saving space in a mechanical room, the e-HSC's in-line configuration enables easier installation and maintenance in new or retrofit systems, ideal for large capacity, high-head systems with high inlet pressure.
ESP-Systemwize™
Bell & Gossett ESP-Systemwize™ is an industry-best online selection tool that provides HVAC and plumbing system designers the ability to choose all system component within a single integrated tool to ensure an efficient hydronic system design.
The system selection tool guides industry professionals through the specification process by providing side-by-side product comparisons, an express select button that narrows down a pump search, and an active warning system that alerts users of potential selection problems. ESP-Systemwize also is searchable by groups of products — a click of the performance button analyzes a pump's multiple speeds in real time and the workplace tab offers additional product data with 24/7 technical assistance.
e-SVE smart pump
The Bell & Gossett e-SVE smart pump is the newest addition to the e-SV pump family. Featuring the Xylem Smart Motor — an "ultra-premium" level IE5 permanent magnet motor — the e-SVE provides efficiency well above a standard IE3 NEMA premium asynchronous motor. It includes a wide range of monitoring, control and safety features out of the box with no need to configure. It can operate single or multi-pump systems of up to three pumps without an external control panel or PLC, and exceeds hydraulic performance of fixed speed versions in a more compact design. Six e-SVE pump ranges are available with multiple construction designs offering flexibility for numerous applications, including residential and light commercial, OEM applications and HVAC.
ecocirc® XL (single phase and three phase)
The Bell & Gossett ecocirc XL 3-Phase smart ECM large wet rotor circulator is the industry's first smart multiphase circulator pump. The circulator extends the advanced features of the energy-efficient ecocirc XL product line with models that have greater capacity to meet the high head/high flow pumping demands of larger systems, ensuring efficient operation and reducing energy use. The ecocirc XL line, with single- and three-phase motor options, gives users a highly efficient circulator that enhances commercial hydronic systems with superior quality and dependability. The ecocirc single phase and three phase are ideal for a broad range of HVAC and plumbing applications.
e-1510 HYDROVAR with ECM motor
The Bell & Gossett HYDROVAR® HVL Pump Controller, combines with the Series e-1510 base-mounted end suction pump with a highly efficiency ECM motor, and provides flexibility and efficiency for new and retrofit applications. This packaged unit features the intelligent variable speed controller combined with existing system creates a highly energy-efficient pump and drive package that matches system performance to demand. With its space-saving design, the controller mounts easily on the motor of the pump. With built-in application software, the controller is simple to commission, program and operate, enabling virtually any configuration of pumps; up to eight pumps. The e-1510 with HYDROVAR is ideal for use in commercial/residential buildings, public utilities and general industry.
Thermostatic Temp Setter Balance Valves
The Bell & Gossett Temp Setter Thermostatic Balance Valve maximizes potable water recirculation system energy efficiency and helps prevent the development of Legionella bacteria. The valve automatically ensures water temperature does not fall below a set minimum in all parts of a domestic hot water system. Optimizing flow distribution of regulated temperature-controlled water reduces energy costs, prevents unnecessary recirculation and eradicates bacterial problems. Field adjustable temperature settings range from 98 degrees Fahrenheit to 150 degrees Fahrenheit for precise temperature control. Available in 1/2" and 3/4" models with optional manual or actuated thermal eradication bypass.
Show details
What: 2020 AHR Expo
When: Feb. 3-5, 2020
Where: Xylem Booth 1801, West Hall, Orange County Convention Center, 9400 Universal Blvd., Orlando
Highlights: An interactive 3D display spotlighting Bell & Gossett products and solutions in marquee commercial buildings in North American cities; a product showcase featuring Bell & Gossett's new e-82 twin in-line pump and new e-SVE smart pump, e-1510 HYDROVAR with ECM motor pump controller, ecocirc® XL single phase and three phase circulator pumps and Temp-Setter Thermostatic Balance Valves; an in-booth announcement at 11 a.m. and 1 p.m. Monday about a Bell & Gossett and Watermark philanthropic initiative.
For more information about B&G products, visit http://bellgossett.com or locate a B&G representative at http://bellgossett.com/sales-service.