Bosch Streamlines Split WSHP Air Handling Unit Portfolio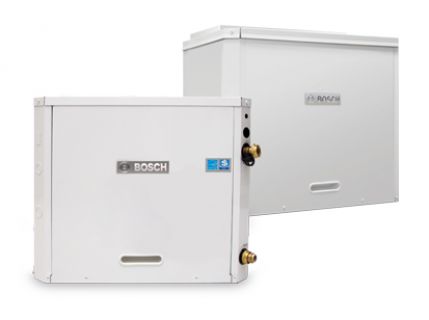 Bosch Thermotechnology announced today the proactive streamlining of the Split WSHP Air Handling Unit (AHU) product lines for its geothermal SM and LM split systems, making it dramatically easier for contractors to fulfill ordering needs for specific projects and installations.
The consolidation reduces the total number of configurations and parts for Bosch's SM and LM Split systems from thousands to 84 and 32, respectively. A new simplified product portfolio provides the perfect balance of flexibility and simplicity, in contrast to the build-to-order approach that was required of contractors in the past. Now, they can select the appropriate product from the manufacturer's array of residential and commercial water loop or ground loop applications based on proven pre-configured systems; sparing them the hassle of needing to customize a system from the ground up.
"We can now confidently say that Bosch Thermotechnology offers the most flexible water source heat pump split portfolio on the market," said Andrew Archambault, senior product manager at Bosch Thermotechnology. "We continue to work closely with contractors to provide innovative solutions that make Bosch products one of the easiest and most efficient to service from start to finish."
The move offers relief and dramatic time savings for system installers who are seeing rapid growth in split geothermal projects. With local, state and federal incentives providing reduced initial costs for geothermal system installations, residential and commercial building owners are quickly realizing that split water source heat pumps are among the most efficient heating and cooling options available.
Specific changes to the parts lineup include new AHU and case coil pairings; utilizing the air source heat pump BVA2.0 air handler and BMAC cased coil units to the water source heat pump portfolio. Bosch Thermotechnology now offers three options for AHU's: square box style (for tight spaces), rectangular multi-positional (only 4 SKU's), and cased coils for dual fuel applications with furnaces.
The new organization of the SM and LM split systems complement a laundry list of other unique benefits. Bosch currently boasts one of the highest performance efficiency ratings in the industry, according to the Air-Conditioning, Heating, and Refrigeration Institute (AHRI).
These combined product portfolios cover the needs of any contractor, whether they are working on a residential project or servicing a sprawling commercial building. The flexibility of having multiple AHU units to pick from means contractors are guaranteed to find a unit that is ideal for their application, whether it includes new construction or a retrofit in an already constructed space.