Caleffi Presscon™ Press Fitting Line Expansion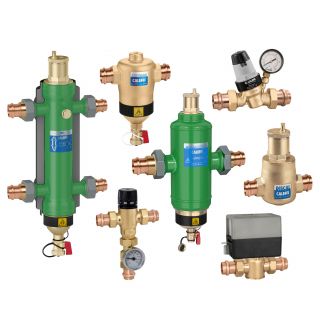 The Presscon™ press fitting, with its exclusive LEAK DETECTION feature, will detect leaks during system testing if a press fitting is unpressed. Caleffi was the first to introduce zone valves with press fittings and is now expanding the fitting to its broad range of hydronic components. Press sizes from ½" to 2" copper will be available on several air separators, dirt separators, hydronic separators, magnetic separators, thermostatic mixing valves, balancing valves, press reducing valves and more.
Presscon fittings have a working temperature range of 0°F - 250°F for up to 50% glycol mixtures and pressure rated to 200 psi. Fittings meet low lead law requirements for use in accordance with U.S. and Canadian plumbing and mechanical codes.
For a full list of functions and features, as well as Caleffi product available with the Presscon fitting, visit our website at www.caleffi.us.
CALEFFI – Creating innovative, superior performance products that help customers live comfortably and economically, while softening their impact on the environment. For more information, visit Caleffi's Web site at www.caleffi.us, e-mail, or call (414) 238-2360.