Caleffi Proudly Recognizes Industry Partners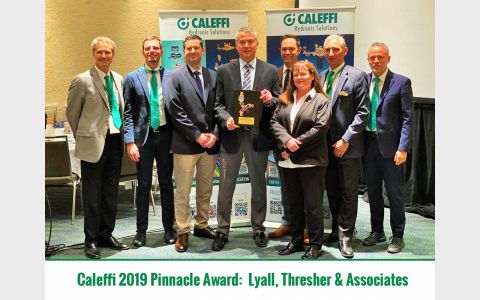 Caleffi North America, Inc. held its annual Manufacturers' Representative Meeting in conjunction with the 2020 AHR Expo in Orlando earlier this month. A Rep Recognition ceremony was held where several firms were recognized for their 2019 performance and were presented with Quota Buster awards. Additionally, two representatives were further recognized for their exceptional achievements:
Lyall, Thresher & Associates Inc. (LTA, Elk Grove, Ill.) was awarded the Pinnacle Award for their outstanding 2019 performance against goal.
Dan Davis Sales Inc. (DDS, Lebanon, Maine) was awarded the Rep of the Decade for their commitment, enthusiasm and unwavering loyalty to Caleffi for the past 10 years.
"We invest to a great extent in the market; as a result we ask a lot from our reps. Our rep network delivered another great year in 2019. Congratulations to Lyall, Thresher for their great success. And, over the past decade, no other rep firm has done so much to consistently drive growth than Dan Davis Sales. They are a hardworking, creative and fun group who consistently demonstrate a technical mastery of our broad product line. We are very proud of them," stated Mark Olson, GM and CEO.