Coffee with Caleffi™ Applying Air-to-Water Heat Pumps in Hydronic Systems (Part 2)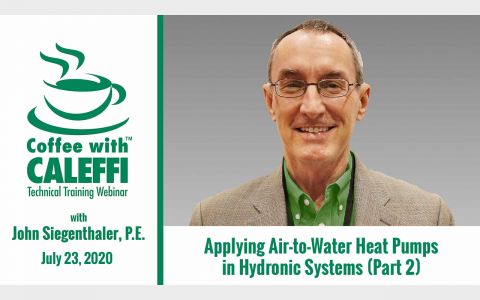 Air-to-water heat pumps represent a unique opportunity to leverage the high efficiency of modern "low ambient" air-source heat pumps with the unsurpassed comfort offered by hydronic distribution systems. All signs point to an expanding market for these heat pumps within North America. A favorite to the webinar series, John Siegenthaler, P.E., will discuss how to apply both monobloc and split system air-to-water heat pumps for heating, cooling and domestic hot water production at the next Coffee with Caleffi™ webinar on Thursday, July 23 at 12 noon CST in an extended 90 minute presentation.
A seasoned industry leader and passionate teacher, Siegenthaler shares his over 35 years' experience in the understanding and proper application of water-based engineering principles with our audience. He is the principal of Appropriate Designs and a regular contributor to industry publications.
The educational webinars are free and are intended for contractors, designers and wholesalers. A Certificate of Attendance is emailed to attendees following the event for continuing education audits. Please visit our website at www.caleffi.us for schedule details and registration.